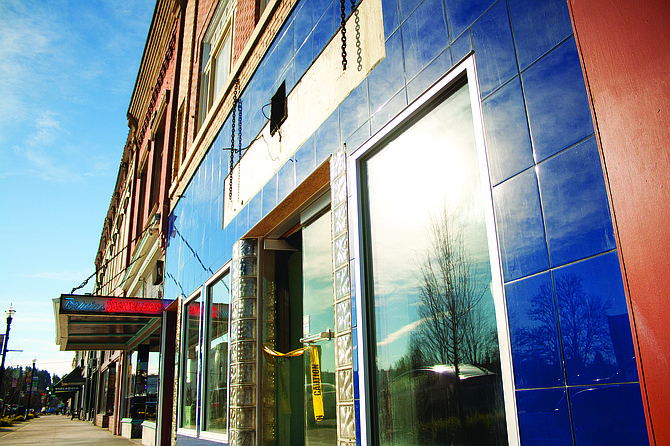 DALLAS — For the first time in about 30 years, the old Blue Garden sign will add its light to Main Street in downtown Dallas.
Thursday the newly refurbished sign will be reinstalled on the building, which is undergoing major transformation of its own behind the remodeled facade.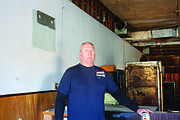 Around dusk Thursday evening, Blue Garden owner Bob Collins will flip the switch to light the sign.
It will be an outward indication of progress on a project that Collins admitted has been more work than he anticipated. The building had been declared a nuisance by the city, and once he started work, he knew why.
"The old girl was on her last leg," Collins said Monday.
A portion of the ceiling had collapsed, exposing the interior to rain.
"It was all mold and mildew," he said, "and it was just ugly."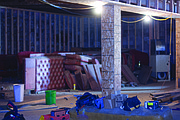 Collins, who is financing the remodel piece by piece, persevered and has made notable progress, starting with abatement of the mold and removal of all the old kitchen equipment.
The building had been locked up for 15 years when he bought it, and Collins found evidence of that — old bottles of salad dressing — in one of the freezers.
"It was just terrible," Collins said.
He decided the remodel would have to be from the ground up if he was going to do it.
"It's an overwhelming big project, but we keep moving forward on it," Collins said. "Every day we get a little closer on it."
Collins just finished installing new sewer lines, a new grease trap and a new storm drain that will keep about a half a million gallons of rain water out of the city's wastewater treatment plant. He's made necessary repairs to the roof on two levels. New plumbing and heating systems are being installed now.
"A lot of stuff that you don't really think of it having anything to do with the restaurant, but it is just trying to make it all correct," he said.
Collins has completed a seismic upgrade that will prevent a complete collapse and allow people to get out if a big earthquake were to strike.
"I have enough lumber in here that I could have framed two very large homes. We've lined all the walls, we framed within the frames," Collins said. "It's a pretty big expense, but we wanted to do it right."
Collins believes he is finally at a point in the restoration where he can think about working toward opening at least part of the restaurant.
"I would like to get this front café open by spring, if possible," he said.
He said he would like to have the new café feel like the old Blue Garden he remembers and many a customer can recall.
"We want to try to preserve, in the old section at least, a little bit of that old flare," Collins said.
The Blue Garden opened in 1923, so he had some discretion as to which era.
"We are somewhere between the late-'50s and '60s, kind of a mix," he said. "Just something that is pretty, but operational."
Collins said almost daily he's asked when the restaurant will open — and he's had to kill a few rumors about the project going sideways.
He's in it until the job is finished, although he hopes that won't be too much longer. Former customers have been a constant source of support — even people who have moved away from Dallas are paying attention.
"It also puts some pressure on you. We have to perform," Collins said. "People are going to come in the door with whatever that expectation picture is, and they are going to come in and say, yeah, we met it or we fell short. I think we are going to surprise a lot of people."
For now, eager would-be customers will have to be satisfied with a completed facade, with its fresh paint, custom-made tiles — and that iconic sign.
"That is going to shine, especially on that cobalt blue tile," Collins said with a big grin.