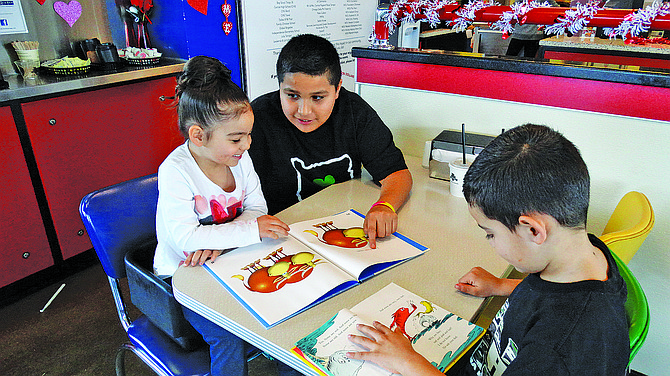 MONMOUTH — Burgerville conjures images of Tillamook cheeseburgers and rosemary shoestring potatoes with hazelnut chocolate shakes — all locally sourced in the Pacific Northwest.
Now, the Monmouth location will be synonymous with literacy. The first of what organizers hope will be a monthly Literacy Night at Burgerville is Wednesday.
"Literacy is very important," said Colleen Spencer, Burgerville team manager, who organized the event. "It's been in my heart to have families come together."
Spencer comes from a background in early childhood education and working with families before joining the Burgerville team three years ago. General Manager Robert Henry was open to the idea of hosting the night filled with activities geared toward improving overall literacy of the community.
Enjoy a book and cone
What: Burgerville Literacy Night.
Where: 615 E. Main St., Monmouth.
When: 5:30 to 7 p.m., Wednesday.
Admission: Free.
Of note: Kids cones will be given out free, in addition to some books, donated by Goodwill. Kids meals will be $2 off. The event is a collaboration between Burgerville, Monmouth Public Library, Western Oregon University and Mid-Valley Parenting.
"Literacy can be developed between different activities," Spencer said.
Gardening with children, cooking with children — any activity where there are directions to read and discussions to have can improve and encourage literacy, she said.
The evening is in collaboration with Monmouth Public Library and Goodwill, who will donate books to give out on the night. Monmouth Public Library will have volunteers and librarians there to read with kids and hand out literacy resources such as reading lists and coloring sheets.
"It's a nice way to meet people in the community and support literacy in a different way outside the walls of the library," said Carrie Kasperick, children's librarian in Monmouth.
Paper will be on every table so families and children may write their story, tell a story, write a letter or song, Spencer said.
"There's fun ways to do something simple for families to create literacy," she said.
Burgerville will supply coupons and free kids cones, as well as the space to gather and explore literacy.
Henry said he is looking forward to giving Burgerville the chance to be more involved in its community besides its fundraising partnerships, which raised $13,000 last year for more than two dozen organizations.
More like this story