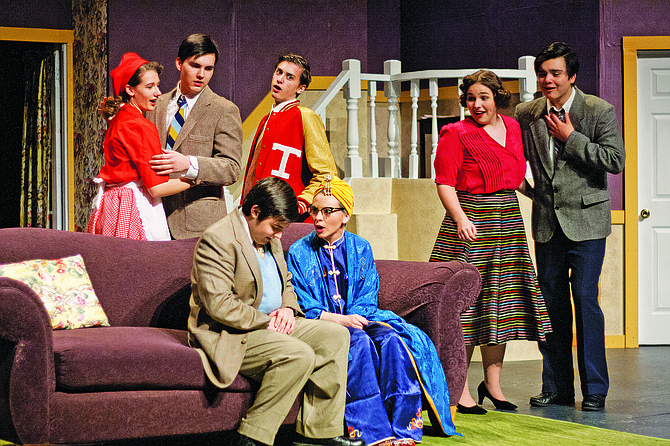 DALLAS — Think about it, $1 million.
That amount of money is on the minds of the leading women — err, men — of Dallas High School's production of Ken Ludwig's "Leading Ladies" running Thursday through Saturday.
Leo (Zac Parnell) and Jack (Isaac Monroe), later known to the rest of the cast of characters as Max and Steve (really Maxine and Stephanie), will go to great (dress) lengths to get their hands on that fortune.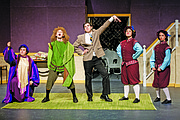 Down on their luck actors, the pair read about an ailing elderly woman with a $3 million estate to pass on. She's looking for her sister's long-lost daughters to include in the will, except Leo and Jack are convinced by the names "Max" and "Steve" that the would-be heiresses are men they can impersonate.
When they find that is not the case, they are so fixated on the money that Leo and reluctantly, Jack, dress in drag to pull off the scam.
They don't make for a pretty picture as women, but that only adds to the fun.
"It is a farce," said director Aaron Fawcett. "It's a complete farce."
"Leading Ladies," set in 1952, borrows from "Some Like it Hot," and Shakespeare's "Twelfth Night" in the use of cross-dressing as a means to an end. But there is much more to making a successful comedy than putting characters in ridiculous costumes.
"Comedy is very hard work. It's very hard to do well," Fawcett said. "A lot of people could come out and yell and scream and be very dramatic."
Though it may look easier, comedy takes extra effort, especially for young actors.
"It's about timing and pace and physicality," Fawcett said. "They know what is funny, but doing it is different."
Sophomore Molly Bucher, who plays Meg, said learning the right way to play comedy has been challenging.
"I think the hardest part is getting the timing right and knowing when people are going to laugh and try to keep a straight face through most of it," she said.
That is especially true for the actor playing the only character that isn't supposed to be having a good time. It seems that Leo and Jack aren't the only ones looking to make a fortune from dear Aunt Florence.
Rev. Duncan Woolsey (Luke Disney) is engaged to Florence's niece, Meg, in hopes of eventually inheriting all $3 million for his foundation.
It's such a 'drag'
What: Ken Ludwig's "Leading Ladies."
When: Thursday through Saturday at 7 p.m. and Saturday at 2 p.m.
Where: Dallas High School's Bollman Auditorium, 1250 SE Holman Ave.
Tickets: $5, available at DHS office or at the door.
For more information: 503-623-8336.
"There is one scene where I'm laughing maniacally. That's all the laughing I do through the entire play," Disney said of his character. "I'm trying to get $3 million. That's very serious business. It's not really a laughing matter."
For that reason, he's the only one who is suspicious of Max and Steve.
Meanwhile Meg, learning of the pair's acting background, becomes enamored with her mysterious cousins.
"She's lively, vivacious and just loves theater," Bucher said of her character. "She just wants to get out of her small town and do something really big."
But before that can happen, there is the matter of her upcoming marriage to Duncan, which is complicated by her increasing interest in Leo as Max.
As for Parnell and Monroe's turn as women, well, you'll just have to see the play.
"It's very outrageous, easily the most outrageous part of the whole thing," Disney said. "The funny part though is that nobody can tell that they are guys. We all fall for it, which is ridiculous because they look nothing like women. Although, their legs look really nice in their heels."