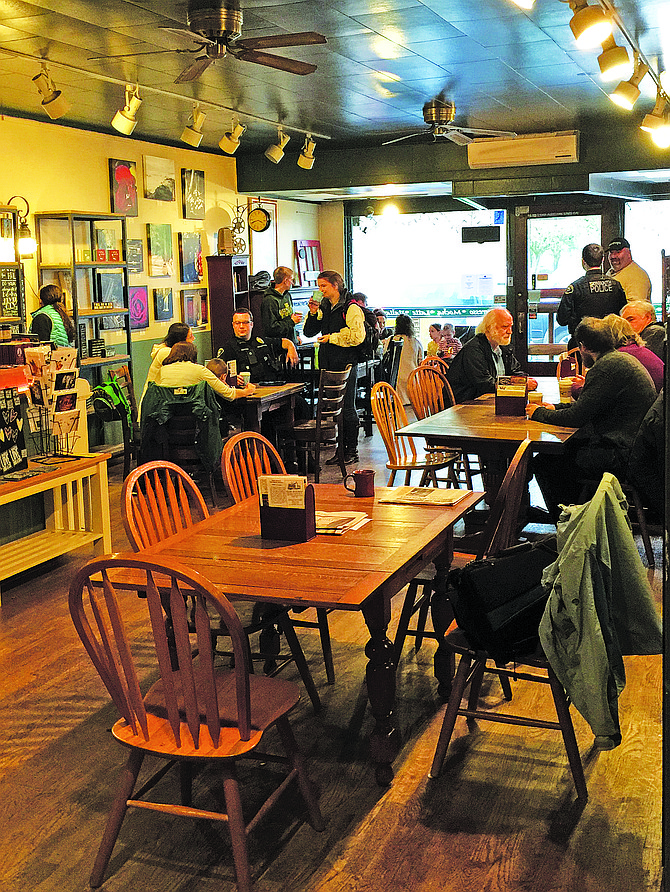 Dallas Senior Center hosts Jam
Love songs, old and new, are the theme for the Community Sweetheart Music Jam, slated for Thursday at the Dallas Senior Center, 955 SE Jefferson St., Dallas.
All area musicians, singers, and music lovers, regardless of age or ability, are welcome  to share and enjoy  their favorite love songs, music starts at 6:30 p.m. Performers scheduled are: Fred Hardin, Kermit Bail, Chris Cutler, honky-piano queen, Carlot Hall, The Notorious Leopard Chicks, Steve Springer and host, Michele Campione.
Admission is free, but bringing a snack to share is always appreciated. Call 503-507-5240 with requests, suggestions or for more information.
Local officer graduates DPSST
Deputy Sheriff Matthew Bass of the Polk County Sheriff's Office will graduate from the Oregon Department of Public Safety Standards and Training on Friday. Bass will be part of the Basic Corrections Local No. BCL021 graduating class.
The class will be recognized during a ceremony at 11 a.m. at the Oregon Public Safety Academy, 4190 Aumsville Highway SE, Salem.
DPSST provides training to more than 25,000 students each year throughout Oregon.
Tickets available for library fundraiser
Tickets are available for the 10th annual movie fundraiser for the Friends of the Independence Public Library. The fundraiser will be held March 7 at 7 p.m. at the Independence Cinema when a showing of "The Intern" will be held.
Tickets cost $15. Free popcorn will be available along with door prizes. To purchase, contact Betty Plude, 503-551-7687. Tickets are also available at the Independence library and the Pink House Café.
Calmlee's to host book club Saturday
Calmlee's Bookstore, 147 SW Court St., Dallas, will host its first book club meeting Saturday at 7 p.m. Discussion about what books to include on the reading list will take place. Meetings will be held the last Saturday of every month.
For more information: 503-623-3025.
Relay for Life event Friday, Saturday
Relay for Life will hold an event at the Majestic Theater in Dallas on Friday and Saturday.
Event will include vendors, crafters and on-site massages and will run from noon to 8 p.m. on Friday and 9 a.m. to 5 p.m. on Saturday.
A game night featuring bingo and a quarter auction will be held from 6 to 8 p.m. on Friday. Saturday will include a fashion show, dance group, vocalists and honorary survivors of Polk County ceremony.
There will also be presentations and booths with information about cancer awareness and prevention.
St. Thomas to host Lenten series
St. Thomas Episcopal Church, 1486 SW Levens St., Dallas, will host a Lenten series each Wednesday through March 16.
The series will begin with a worship service at 5:30 p.m., soup supper at 6 p.m. and a video lecture series on the Old Testament with discussion from 7 to 8 p.m.
Living with chronic pain workshop
The Dallas Senior Center will offer a free, six-week workshop featuring skills for living with chronic pain. The Living Well program focuses on self-management skills, including working with your health care team, managing symptoms and medications, setting weekly goals, getting support from family and friends, learning how to eat well and be active.
Class materials, including a course book and CD, are provided without charge.
Classes will be held every Wednesday from March 2 to April 6 at the senior center, 955 SE Jefferson St., Dallas.
To register or for more information: WVP Health Authority, 503-587-5129. On-site registration will also be available.