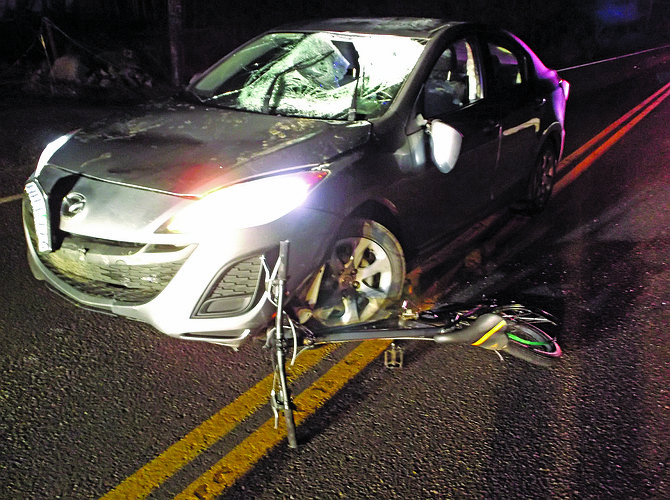 POLK COUNTY — No citations have been issued, but the investigation is ongoing in Dec. 30's fatal accident involving a bicyclist and car.
Polk County Sheriff's Office said bicyclist John Shapley, 52, of Independence died in the accident that occurred in the 9000 block of Hoffman Road, on the outskirts of Monmouth city limits.
At about 6:40 p.m., Polk County deputies responded to what was reported as a vehicle versus pedestrian crash on Hoffman Road between 16th Street North and South Highway 99W. Deputies were told CPR was in progress.
Additionally, officers from Monmouth and Independence responded to the call.
Polk County Fire District No. 1 EMS personnel arrived on the scene at 6:46 p.m. and soon determined that Shapley had died as a result of the crash.
Police said Shapley was struck from behind while riding a bicycle west on Hoffman Road, causing significant damage to both the bicycle and the involved vehicle, driven by Daniel Major, 40, of Falls City.
It was believed Shapley was killed upon impact.
The investigation showed a secondary impact with Shapley's body by a separate vehicle had occurred, but it was not thought to be a factor in his death.
All parties remained at the scene and cooperated with investigators, police said.
Sheriff Mark Garton said that stretch of Hoffman Road is dark with no street lights. It has very little shoulder with no bike lane.
Shapley had been wearing dark clothing. Garton said. Speed didn't appear to be a factor in the crash.
No criminal charges have been filed thus far in the investigation, which is ongoing, Garton said.
Both the Polk County Medical Examiner's Office and the Polk County District Attorney's Office had personnel respond to the scene.
Law enforcement arriving on scene closed Hoffman Road between 16th Street North and South Highway 99W.
The road was closed for several hours while deputies conducted an investigation, which included assistance from Oregon State Police, at the request of the sheriff's office.