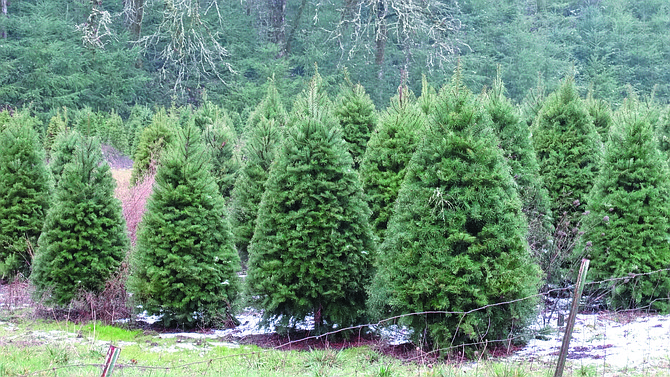 DALLAS — The record December rains — 15.24 inches in all, 6.86 above what's considered "normal" — didn't spoil the Christmas tree harvest too much.
"We had a pretty soggy year with all the rain," said Ken Brown, co-owner of Brown's Westwinds Farms in Dallas. "We were down a little bit on the number of trees sold, but it was really a good year."
The long, hot summer did not hurt the fir trees much, Brown said, because they got enough moisture in spring.
"We do worry if it stays particularly dry into the harvest season," he said, adding that the fall rains was enough so trees didn't suffer.
However, the heavy rains, particularly during the weekends, kept a few cut-your-own-tree folks away.
"Of course, that slows things down pretty dramatically," Brown said.
But overall, he said, "We were only down maybe 20 trees from the year before."
With a U-cut farm, any trees that don't sell aren't wasted, Brown said.
"Not like somebody on the (parking) lot that has a few trees leftover," he said. "They're not worth a thing the day after Christmas. Mine, I can use mine again."
The wholesale tree growers weren't as affected by the late rains, as their harvests were already in trucks and on boats to retail sellers.
The summer heat affected some trees, said Tom Norby, past-president and member of the Oregon Christmas Tree Growers Association.
"Those first trees that we sent overseas really needed a bit more moisture for them," he said. "The ones we cut in November for domestic were a lot healthier."
Wholesale tree growers start their harvests in late October and keep pushing right through Thanksgiving, Norby said.
As an industry, Christmas trees were in demand.
"There was an oversupply for a number of years," Norby said. "We seemed to have worked through that oversupply, with some people getting cautious about replanting."
Christmas trees grow on about an eight-year cycle, so Norby said to expect a couple more years of even shorter supply.
"Prices are probably going to go up," he said. "The thing we're going to have to resist is pushing our prices up too far and pushing people from natural to artificial trees."