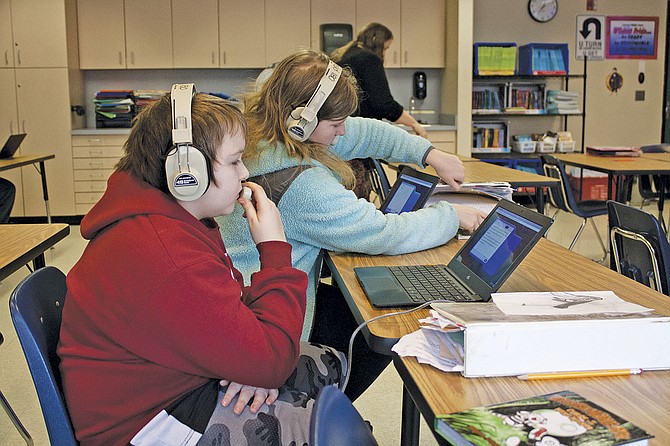 DALLAS — The bell rings, marking the end of Teresa Larios' reading support class at LaCreole Middle School.
A student piped up: "I don't have to leave, do I?"
Larios smiles. She's heard similar comments from students since the beginning of the school year, when the school embraced a larger use of technology.
"See that? They don't want to leave," she said.
The source of their enthusiasm? A program called Reading 180, which is helping many of her students improve their reading skills in a familiar way.
"They are engaged with technology," Larios said. "That's the way they like to learn."

Larios said the program is only one third of the instruction in the class, but it's producing results.
"Some of these students who are working on their reading have made a year's worth of progress in two months," she said. "I don't know that that is always going to happen or typical, but it's definitely had a positive impact."
Larios' students are using Chromebooks purchased by Dallas School District for student use, but in an innovative move, the school also is encouraging a "bring your own device" culture.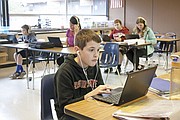 Principal Jamie Richardson said school staff recognized that using technology like cellphones and tablets as a tool for work, not just for entertainment, is an essential skill.
He said, surprisingly, many students didn't know how to do that.
"It sparked our interest in trying to prepare our kids a little bit better for the futures they going to have," Richardson said. "That's the reason, I think, that we've been more willing to step out there because we understand that the skills the kids are going to need, we have some gaps in that, especially when it comes to technology."
All students at LaCreole are taught how to use their personal devices for learning, as well as how to be a "good digital citizen" and digital literacy.
"BYOD" comes with some guidelines, as cellphones could be a distraction, but there is a tradeoff: Richardson said one of the program's biggest successes is student engagement.
"There's that shiny screen," he said. "It's typically a little bit more enticing than a textbook."
Larios can attest to that.
"It's changed my teaching," she said. "The kids are more motivated. They are more self-directed and they are more creative."
As if on cue, Ethan Tingler raised his hand to give a report on his progress. He was on his way to meeting his next goal.
"I like this period," he said, smiling as he packed up at the end of class. "It's my favorite period of all."
He said using technology makes reaching his reading goals easier — and more fun.
"Sometimes, if we have enough time, we get to play games," he said.
Larios said those aren't just games, they are replacing traditional methods of reviewing material.
"It's a lot more fun than sitting there filling out a worksheet," she said.
She added technology is helping with the age-old teacher's challenge of engaging all students.
"I teach all three grades (sixth through eighth) and I teach students from struggling readers to gifted and talented students," she said. "The technology that we have has really helped me be able to reach, personally, all of their levels of development. It's huge."
LCMS technology standards
• Creativity and Innovation: Students demonstrate creative thinking, construct knowledge and develop innovative products and processes using technology.
• Communication and Collaboration: students use digital media and environments to communicate and work collaboratively, including at a distance, to support individual learning and contribute to the learning of others.
• Research and Information Fluency: Students apply digital tools to gather, evaluate, and use information.
• Critical Thinking, Problem Solving and Decision Making: Students use critical thinking skills to plan and conduct research, manage projects, solve problems and make informed decisions using appropriate digital tools and resources.
• Digital Citizenship: Student understand human, cultural and societal issues related to technology and practice legal and ethical behavior.
• Technology Operations and Concepts: Students demonstrate a sound understanding of technology concepts, systems and operations.
Richardson said the school still is ironing out the details and piloting other programs for next year. He said about 80 percent of teachers at the school are using technology in some form in their classrooms and more are beginning to see the benefits.
He added students are making strides at using their devices and social media — Facebook, Twitter and Instagram are used in some classes — responsibly.
"We've lifted the concept that cellphones are bad — put them away, we don't want to see them," Richardson said. "In the kids own words, they feel trusted. I think that goes a long way, especially with this age group, when they feel trusted, they have a sense of responsibility."
"I think it's a changed culture in our school," he said.