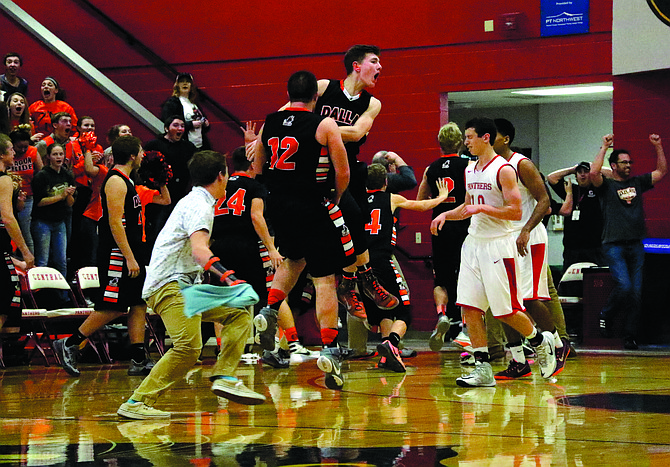 INDEPENDENCE — As Central and Dallas clashed on the court, the end of regulation featured a memorable sequence — one likely to go down as one of the season's most dramatic for both teams.
—
With the game tied at 31, Central set up its half-court offense. Guard Alec Barba hit a 3-pointer with less than five seconds left.
Dallas senior Everett Minahan took the inbounds and sprinted up court when a stroke of luck happened.

"I tried to get a timeout called, but the ref didn't see me," Dallas coach Trent Schwartz said.
Minahan didn't see Schwartz attempting to call a timeout. Instead, he had a split-second decision to make.
"I looked up at the clock and I looked at the sidelines and they were telling me to go," Minahan said. "I kind of had to just shoot it."
Central coach Tim Kreta just wanted his players to stay focused for one last shot.
"I was focused on making sure our kids were turning around and getting in front of someone," Kreta said. "Sometimes they get so caught up in emotion with the students and the fans cheering. You just have to be thinking one step ahead at all times."
Minahan was able to find an open shot and, from the left side of half court, Minahan launched a desperation heave.
"I was just trying to line it up," Minahan said. "When you're going that fast, you hope it makes it perfectly or it banks right in. I was not expecting to make that shot at all, especially from the left side."
For the briefest of moments, the crowd, which featured rowdy student sections from both schools, fell silent.
Then, the shot fell.
"It was a miraculous shot," Schwartz said.
The game was headed to overtime, where Dallas held on for a 38-37 win.
Minahan's shot will go down as one of the Dragons' most memorable moments — one that helped give Dallas new life.
"It's hard to put into words," senior guard Avery Welty said. "That shot revived us. We had another chance to show them what we actually have."