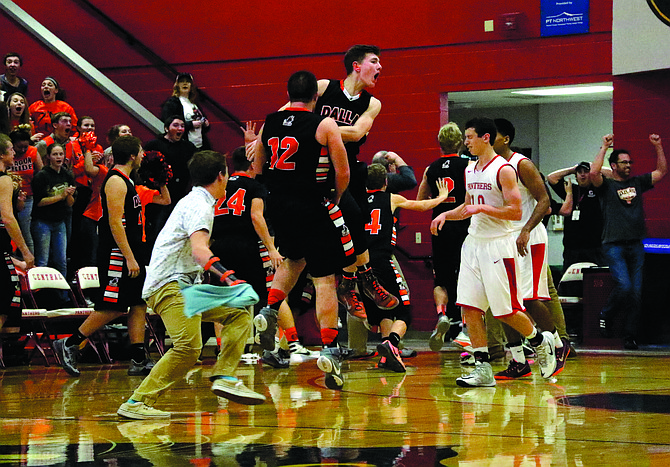 INDEPENDENCE — At the end of nearly every practice, a Dallas boys basketball player steps to the free-throw line.
"If I make both of them, we don't have to run," senior guard Avery Welty said. "If I miss the first one, we have to run a set of lines. If I make the first and miss the second, we have to run to half court and back and then full court and back."
On Tuesday, Welty stepped to the free-throw line against Central — this time with the stakes a little higher.
Leading 36-34 in overtime, Welty had a chance to put the Dragons up by two possessions.
Prior to the fourth quarter, Welty was held scoreless during the matchup. He had two points in the fourth and had Dallas' lone basket in the overtime period.
"Avery, he's a good free-throw shooter," Dragons coach Trent Schwartz said. "I think as a player, you want to be in that spot."
Welty wasn't about to let his teammates down.
"You have to know that you're going to hit your shots," Welty said. "The first thing that pops into my mind is my team. I have to be able to step up at the end of the game."
Welty stepped up to the line, took a moment to compose himself and shot. The first one was good, but the second was just as important. A make and the Dragons would lead by four. A miss and it remained a one possession game.
Welty was just as true on the second.
The Dragons won 38-37.
Welty's willingness to face the pressure is what has made him a valuable asset for the Dragons — and one who is able to push not only himself, but his teammates as well.
—
He may not be a team captain, but Welty isn't afraid to push buttons.
"I like to hold my teammates accountable," Welty said. "If they're going to do something, I don't want them to half-ass it."
Whether that means encouraging them after a good play or saying something to them to get them going, Welty knows what makes his teammates tick.
"I like to get under their skin a little bit and make them go harder," Welty said. "I think I thrive off of it. I know how far is too far."
At the root of his willingness to test his teammates' limits is a drive to always get better.
"We have to push each other," Welty said. "If you don't have motivation, you won't feel the need to get any better. If you don't get any better, you won't win any games."
The Dragons will need Welty's drive after following up their win over Central with a 68-45 loss to South Albany.
"We definitely came out flat," Schwartz said.
South Albany shot 56 percent from the field and 64 percent from beyond the arc teaching Dallas an important lesson.
"Hopefully we can learn from this both in our defensive technique but, more importantly, in our mental approach, about coming to play every night with the same intensity regardless of the size of the crowd, opponent, or venue," Schwartz said.
The Dragons hosted league-leading Corvallis Tuesday after press time and plays at Crescent Valley on Friday. As Dallas hopes to prove itself as a contender in the Mid-Willamette Conference, Welty will be there pushing his teammates every step of the way.
"We have to hit it harder than we ever had before," Welty said. "The competition … this is what basketball is all about."