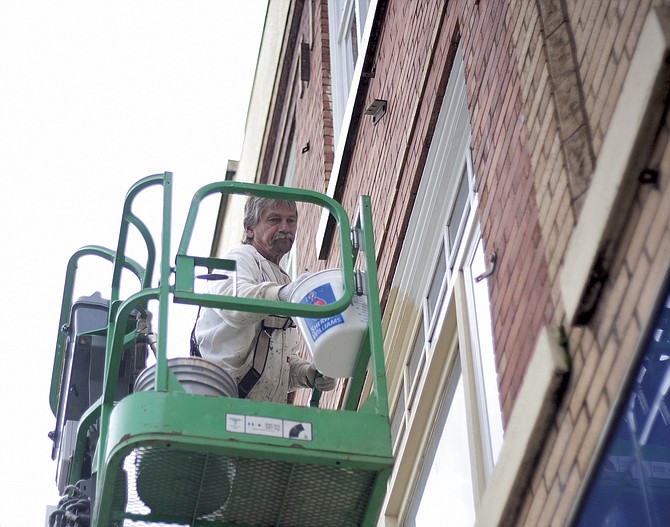 Cross Creek to host tournament
Cross Creek Golf Course will host the 14th annual Brockway Memorial Golf Tournament on Feb. 6. The two-person scramble will begin at 9:30 a.m.
Cost is $45 and includes green fees, hole prizes and tee prizes.
A player does not need a handicap and is open to men, women and mixed teams.
The tournament is dedicated to Marius "Brock" Brockway, who died in 2013.
A portion of each entry will be dedicated to the OGA Junior tournaments held each year at Cross Creek.
For more information or to sign up: 503-623-6666.
Registration and payment must be received by Feb. 4.
Make a difference this New Year
Willamette Valley Hospice will host a free training session to explore volunteer opportunities available with the nonprofit agency.
The training will be from 8 a.m. to 5:30 p.m. on Friday at 1015 Third St. NW, Salem. Another training session will be held on March 18.
Volunteers 12 to 16 years old may provide office support or assist with special events. Those 16 or older may help with patient care, including reading, running errands or providing companionship.
Volunteers also help provide education about end-of-life issues at community activities and special events. Schedules are flexible.
For more information: Brittney or Jenny, 503-588-3600, or online at wvh.org.
Vendor spots open for home show
The ninth annual Polk and Garden Show returns to the Polk County Fairgrounds & Event Center Feb. 27 and 28.
The event will include seminars, vendor exhibits, merchandise, and home remodeling advice.
The fairgrounds will be shared this year with the Mid-Valley Winter Ag Fest.
Vendor space is available.
For more information email Deb Thomas at debthomas3055@gmail.com or call 503-428-8224, or online at polkhomeandgardenshow.com.
Stories of the farm worker Saturday
The Independence Heritage Museum will host an afternoon of recalling the hops and agricultural past of the community at 1:30 on Saturday at the Independence Event Center, 555 S. Main St.
A panel of hop farm workers, summer migrant school program organizers and recruiters will discuss the "old days" when hop farms still housed thousands of workers on site during the harvest season.
For more information: www.orheritage.org.
Monday deadline for rabbit show
The Rickreall Round-Up will be on Jan. 30 at the Polk County Fairgrounds & Event Center, 520 S. Pacific Highway (99W), Rickreall.
Registration with payment must be postmarked by Monday to avoid a $10 late fee.
The event is a 4-H youth educational show for rabbits, cavy and poultry and will be in the main building.
Food will be available for purchase. Awards will be provided for best costumes. A silent auction will include gift cards and baskets.
There will be a sales area for animals, cages and other supplies.
For more information: Nora, jnsd04@gmail.com.
Wild Women show opens this Saturday
The River Gallery will host its annual Wild Women celebration with a reception from 6 to 9 p.m. on Saturday at the gallery, 184 S. Main St., Independence.
This year's theme is "Flashback." The exhibit runs through Feb. 11.
For more information: 503-838-6171.
Pentacle Theatre presents show
Pentacle Theatre opens Christopher Durang's "Vanya and Sonia and Masha and Spike" on Friday at 7:30 p.m., at the theater, 324 52nd Ave. NW (Salem-Dallas Highway 22), Salem.
This show is for adults. The 2013 Tony Award winner for Best Play draws on themes from classical literature — especially Chekov —to delight theatergoers who appreciate the absurd. The story revolves around the relationships of three middle-aged siblings. Vanya and Sonia live quietly together until their successful actor sister Marsha visits with her much younger boyfriend, Spike, in tow.
Evening performances are 7:30 p.m. Friday and Saturday, and Jan. 28-30, Feb. 3-6 and Feb. 10-13. Sunday matinee performances are at 2 p.m. on Sunday, and Jan. 31 and Feb. 7. Tickets cost $20 for weekday performances and $21 for weekend showings. Seniors, students, active military and Pentacle Theatre members receive a $1.50 discount. An additional $2 fee will be for opening night for the catered post-show party.
Advance tickets are available online at pentacletheatre.org or at the downtown Salem office, 145 Liberty St. NE, or by calling 503-485-4300.
In partnership with Salem for All, Pentacle Theater offers two-for-one tickets to Oregon Trail Card holders.
Lions help others to be prepared
The Dallas Lions Club will host an American Red Cross introductory training on making a family disaster plan and creating a disaster kit. All are welcome to join the Lions at their meeting at 11:30 a.m. on Thursday to learn about getting prepared for anything from a house fire to a 9.0 magnitude earthquake or major flood.
For more information: Susan, 503-623-5107.
Dallas Library hosts coloring night
Back by popular demand is Dallas Public Library's Adult Coloring Night Thursday from 5 to 7 p.m.
Why should kids have all the fun, right? Another bonus: there's research to suggest coloring is a stress reliever. The library will provide the free coloring pages, colored pencils and pens, cookies, and tea. All you need to do is show up at the library, 950 Main St., Dallas.
For more information: 503-623-2633.