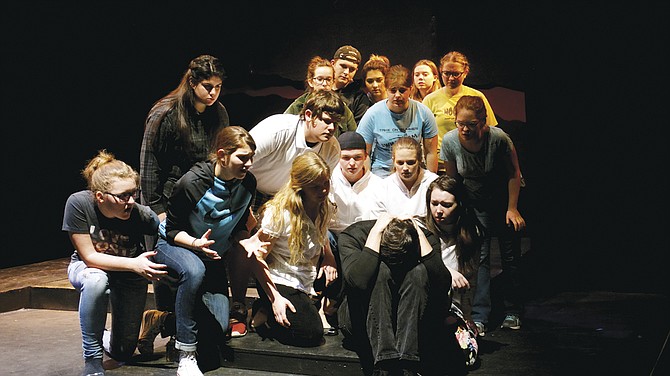 INDEPENDENCE — As Josh sits in his cell, he is surrounded by the spirits and voices of the fellow students who he killed in the school cafeteria earlier that day.
They replay the events leading up to and including the school shooting, and get angry about the stuff they'll never do. Well, Josh will never do anything he dreamed about, either, as he is locked forever in a cell, haunted by his friends whom he shot to death.
The story of school shootings is, unfortunately, not as uncommon as anyone would like. In "Bang, Bang, You're Dead," the students of Central High School's production class, directed by Jeff Witt and Wendy Boyack, address the topic and ask questions about why it happens — and how could it be stopped.
A must-see
What: Central High School Drama Students Showcase and presentation of, "Bang, Bang, You're Dead," by Von William Mastrosimone
When: 7:30 p.m., Wednesday (today), Thursday, Friday and Saturday
Where: CHS auditorium.
Admission: The show is free, with a $2 requested donation to help pay for students to attend the regional and state thespian competitions.
Of note: Because of the content, this show is recommended for those middle-school aged and older. The first part of the show, students will practice for the regional acting festival, to be co-hosted by CHS on Feb. 6. After an intermission, students will perform, "Bang, Bang, You're Dead." A counselor will be available after the performance to facilitate a discussion, answer questions and offer advice. The play was written in response to the school shooting at Thurston High School in Springfield in 1998 and addresses the possible causes and consequences of school violence. Reporter's note: Bring a handkerchief.
Reba Hoffman, who plays Katie, one of Josh's victims, said she has gotten more excited about the play since rehearsals have moved from the classroom to the stage.
"The script alone was really emotional," Hoffman, a senior, said. But having everyone on stage makes the play even more powerful.
"This is definitely the most intense show I've been in," she said. "Of course, other shows are intense in different ways. The anger and the sadness we have to pull into this show is unlike any other."
Jacob Eschette, who plays Josh, said the play spoke to him upon first reading.
"I automatically saw the beauty in this," he said. "I connect well with things that are dark and make people uncomfortable."
It's not just about being uncomfortable, Eschette, a senior, said.
"People don't realize that people don't just snap one day," he said. "It's a journey. It makes us realize what happens when people reach their limits and when people feel alone."
Junior Rynn Hastings, who plays Emily, another of Josh's victims, said the play has become more personal to her since rehearsals moved to the stage.
"A lot of (Josh's) internal feelings, I relate to — feeling differently," she said. "I'm taking my own experiences of what I would miss if I were deceased."
Hastings said the play shows how many people are affected when tragedy strikes.
"I'm so proud of everyone in the cast to do this play in this town," she said.