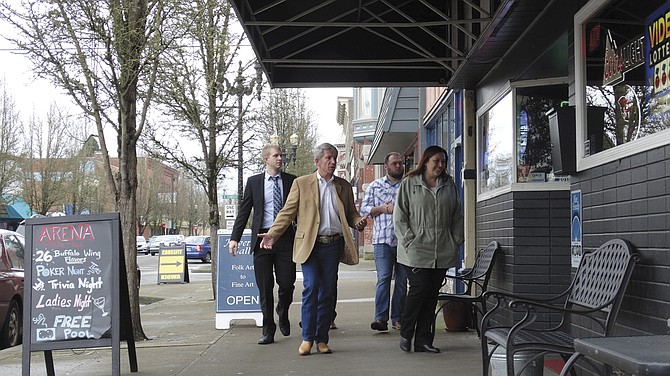 WOU theater student shows film
Nate Dunaway, a senior theater student at Western Oregon University, is a filmmaker in addition to being an actor and director.
His latest film, "Misfortune County," will be shown at Hamersly Library at WOU at 6 p.m. on Friday.
The film premiered in Prineville with sellout showings. The showing is free.
For more information: www/wou.edu/library/exhibits.
Library to host film, pizza, crafts
The Monmouth Public Library will host a movie, pizza and do-it-yourself picture frame project at 1 p.m. on Friday at the library, 168 Ecols St. S.
The activity is for youths in grades six through 12. With no school on Friday, youths will have the chance to watch a newly released Marvel movie (PG-13) and have pizza at 1. After the movie, teens can decoupage repurposed graphic novels onto a picture frame. Supplies are provided for this free event.
For more information: ci.monmouth.or.us.
Monmouth center hosts Feb. 7 party The Monmouth Senior Center will host its first Super Bowl party on Feb. 7 at the center, 180 S. Warren St.
The main dish and punch will be provided. Viewers are encouraged to bring a favorite snack or finger food, as well as their own non-alcoholic beverage.
The viewing is open to family and friends of high school age (14) and older. Activities will include a non-monetary gambling pool with prizes. Also, a poll will be taken for best commercial.
Sign up by Monday by calling the center at 503-838-5678.
Elvis takes center stage at music jam
Celebrate the music of Elvis Presley at the "Elvis Music Jam" at 6:30 p.m. on Thursday at the Dallas Senior Center, 955 SE Jefferson St.
All area musicians, singers and music enthusiasts are welcome to share the fun that comes with the birthday of the King of Rock 'n' Roll.
Kermit Bail, on vocals and guitar; honky-tonk piano queen, Carlot Hall; singer Steve Springer and the Notorious Leopard Chicks are on deck to perform.
Admission is free; donations are welcome, as are snacks to share at intermission.
For song dedications, requests or more information: Michele Campione, 503-623-5055.
Tax help available for Polk seniors
AARP Tax Aide program will provide tax assistance for low- and middle-income seniors in Dallas and Monmouth starting the first week in February.
Dallas assistance will be at DHS, 177 Oak St., on Fridays from 8 a.m. to 4 p.m. Call for appointments: 503-634-5546.
Assistance will also be provided at Northwest Senior and Disability Services in Dallas, 260 NE Kings Valley Highway, on Mondays from 8 a.m. to 4 p.m. Call 503-831-0581 for appointments.
Monmouth and Independence assistance is available at the Monmouth Senior Center, 180 S. Warren St., on Thursdays from 9 a.m. to 5 p.m. and on Saturdays from 9 a.m. to 1 p.m. Call 503-838-5678 for appointments.
Stew & biscuits at United Methodist The Naomi No. 22 OES annual stew and biscuit lunch will be from 11 a.m. to 1 p.m. on Friday at United Methodist Church, 565 SE LaCreole Drive, Dallas.
A bowl of stew, biscuits, piece of pie and a beverage is $7 per person. Proceeds support projects of Dallas Naomi Chapter No. 22, Order of the Eastern Star.
For more information: 503-623-8442.
Meet local author at Calmlee's
Calmlee's Bookstore in Dallas, 147 SW Court St., is hosting Junction City author and former Western Oregon University student Carl Lee Scott on Saturday from 2 to 4 p.m.
Scott recently published his debut novel "The Vow" about a woman trying to prove a serial killer is stalking women in Salem. He will be on hand to talk about his book and sign copies. Half of the proceeds of sales Saturday will go to cancer research.
For more information: 503-623-3025.
Relay For Life to host kickoff event
Relay For Life will host its 2016 kickoff event on Saturday. "Ignite Your Passion" will take place from 2 to 5 p.m. at the Independence Elks Lodge.
Survivors, participants and teams can register for Relay For Life at the event. There will be prize drawings, light snacks and beverages, a free performance by Ed Desmarteau (donations will be accepted for the American Cancer Society) and information about the event, cancer services and cancer prevention.
The event is free, but the public is encouraged to bring one or two small cans of food to use in the Luminaria bags at the Relay. The food will then be donated to the pantry at the Salem Cancer Institute or pet food at the local animal shelter. There will also be a mini Luminaria Ceremony for those who want to participate.
For information: Tami Bookey-Kuhlmann, 2015
relayforlifepc@gmail.com.