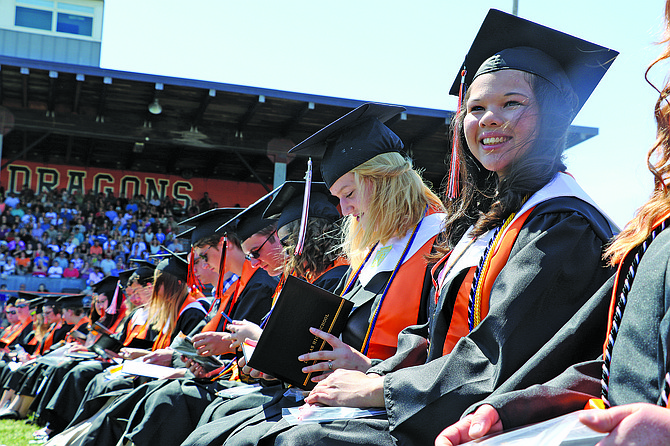 POLK COUNTY – Two school districts in Polk County saw big gains in their on-time graduation rates for the 2014-15 school year, according to a report released today by the Oregon Department of Education.
Another would have except for a reporting mistake that was caught too late to change.
Dallas and Perrydale made sizable gains in their "four-year cohort" graduation rates, the percentage of students who enrolled as freshmen in 2011-12 and graduated within four years. Dallas' increased from 66 percent in 2013-14 to 82 percent in 2014-15. Meanwhile, Perrydale's rate is a perfect 100 percent for 2014-15, up from 87 percent the year before.
Central School District slipped just a little in 2014-15, falling from 73 percent to 72 percent. But that excludes 26 kids who were part of the district's fifth-year program. Those students completed all work needed to earn a regular diploma and should have been included in the four-year rate, said Superintendent Buzz Brazeau.

If those students had been included, Central's rate would have been 84 percent.
Falls City's numbers dipped from 60 percent in 2013-14 to 50 percent for last year's class of 12 seniors.
Kings Valley Charter School, which is located in Benton County's Philomath School District but serves many Polk County students, saw a four-year grad rate of 62.5 percent for its class of eight seniors.
The state also released dropout rates for 2014-15: Central, 1 percent; Dallas, 2.75 percent; Falls City, 4.25; Perrydale, 0; and Kings Valley 0.

For the 2014-15 school year, the dropout rate represents the percentage of students who left school between July 2014 and June 2015 and didn't enroll elsewhere compared to the number of students enrolled on Oct. 1, 2014.
The statewide four-year graduation rate rose nearly two percentage points in 2014-15 to 73.8 percent. The state's dropout rate is 4.26 percent.
For more information about 2014-15 graduation rates for Polk County schools, see the Feb. 3 Itemizer-Observer.