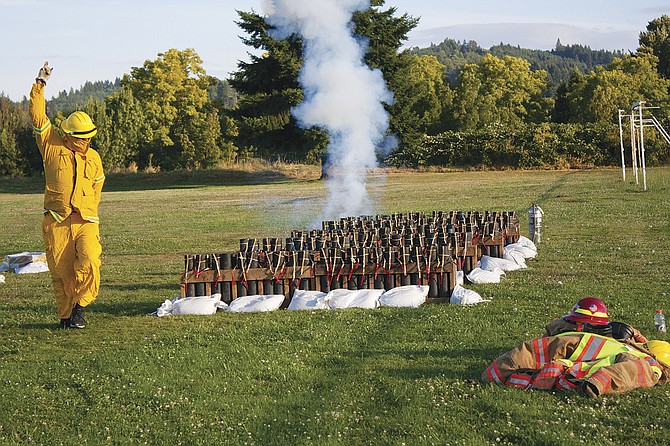 DALLAS — Dallas volunteer firefighter Kent Rasmussen was feeling a little bit of pressure Monday evening.
Rasmussen was leading Dallas Fire & EMS' newly minted pyrotechnic crew through its first Fourth of July fireworks display.
This is the third year that Dallas has had a display, but until Monday, Falls City Fire Department had been in charge of putting on the show. That fact was cause for more pressure.
"Falls City didn't do theirs (firework display), so people from Falls City are going to come out expecting a good show," he said. "And we are trying to compete with Independence."
When he is not fighting fires with Dallas Fire, Rasmussen works with Western Display Fireworks and has been putting on fireworks shows for 13 years.
He joined the Dallas department last year, making for perfect timing because Dallas was thinking of certifying its own pyrotechnics team for 2016.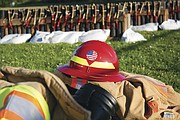 For his rookie crew, the idea of blowing stuff up was exciting.
Renee Wilson, a captain on the volunteer support crew for the department, wasn't able to get certified for the team, but she still had a job: timer.
Her role was to make sure the crew was kept pace with putting on a 20- to 25-minute display. There's an art to timing an entertaining show, and Wilson was happy to help, even if she couldn't light anything.
"We like to put out fires, but we also like to play with fire — in a good way," Wilson said.
Rasmussen smiled at the enthusiasm of the new pyrotechnicians.
"For me it's just another day," Rasmussen said. "But I like to bring new people in because it's fun to watch."
He may not admit it, but he was eager, too. Dallas started at 7:30 p.m. on Monday what will now be a new tradition in Dallas.
The crew was going to light a shell every 30 minutes leading up to the show.
Rasmussen volunteered himself to light the first fuse.
Dressed in protective gear, he walked out to the first rack of fireworks shells and knelt down to light the fuse. As soon as he did, he quickly walked away pointing his finger in the air as the shell blasted off in a cloud of smoke as if to call the neighbors.
The explosion echoed all around LaCreole Middle School, dwarfing the noise of any other fireworks being set off.
It worked like a charm. Minutes later, more people were gathering in the field around the school waiting for the show to begin.
"Every year this show goes, it get bigger," Rasmussen said. "We want everybody to have a good time and enjoy the Fourth of July."