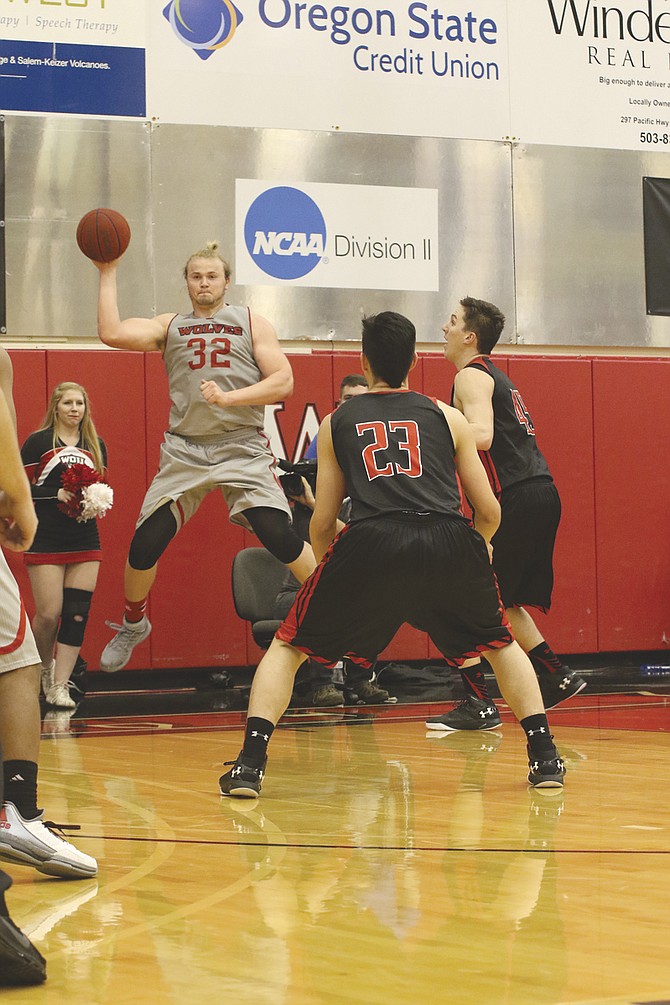 MONMOUTH — Of all the players on Western Oregon's men's basketball team, none received more accolades than Andy Avgi.
The senior forward was named the Great Northwest Athletic Conference Players of the Year — for the second in a row — and earned a spot on numerous preseason and postseason All-American lists. Avgi, like his teammates Julian Nichols and Devon Alexander, is looking to turn pro.
Unlike his teammates, if Avgi has his way, it won't be on the hardwood. Avgi is taking aim at the NFL.
—
Prior to playing basketball at WOU, Avgi appeared headed for a college football career. He was a walk-on to Oregon State, a Division I program, but something didn't sit right.
"It was a hard decision," Avgi said. "I didn't want to give up basketball and I think I always knew that, but getting to play (Division I) football is hard to pass up. I knew what I wanted, though."
He decided to attend WOU — a decision that paid big dividends for both parties.
But through it all, football never strayed far from his mind.
"I think I knew when I made the decision to play basketball that somewhere along the road, I was going to come back to play football," Avgi said. "It felt like the right time (last season)."
Avgi will return to WOU to play football in the fall for one last season — he is able to because of having five calendar years to compete in up to four years in a given sport.
"I've been working on my speed," Avgi said. "I'm spending a lot of time with Cory (Metzgar), our strength and conditioning coach. I'm working on my route running, working with our quarterback and just doing some extra work."
Avgi has also been in contact with WOU alumni — and Super Bowl champion — Kevin Boss to help guide him through the process of turning professional.
"We're really good friends," Avgi said. "I've been talking to him probably the last two or three years. He said he will train with me after the season for whatever comes next after football."
As of now, the plan will be to continue to work on strength and conditioning once the season is over.
"I think staying in shape, working on football drills and getting ready for a pro day," Avgi said. "I'd want to possibly get in the NFL combine and get a chance to show what I can do."
Performing well at a pro day was key to a recent WOU alumni getting his NFL shot. Former Wolves player Tyrell Williams impressed at Oregon State's pro day and eventually signed with the San Diego Chargers as an undrafted free agent in 2015. Avgi hopes for a similar path to success.
WOU's most decorated basketball player may be making a surprising choice, but it's a challenge he's excited to see through.