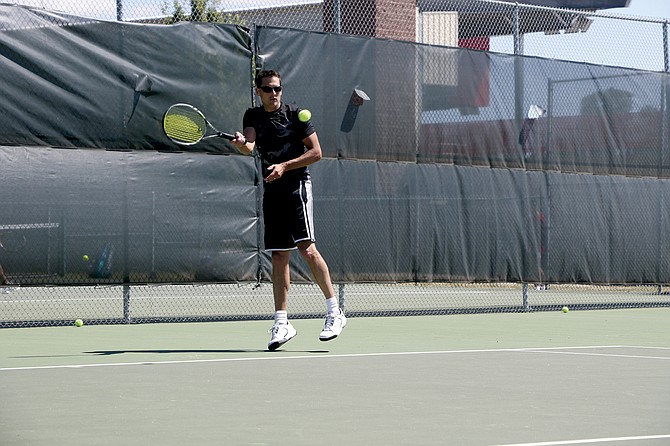 The moment had finally arrived. All the training (well … at least a couple days of training) was about to come to fruition at the Monmouth-Independence Fourth of July tennis tournament on Saturday.
I was ready to show off my newly developed skills and make Novak Djokovic proud — not that he was watching or anything.
All I knew was my first opponent in the 3.0 bracket (the lowest available) was Justin Toews. I didn't know if he was young or old. Skilled or new. Secretly I hoped for a young child who was new to the game.
Boy was I disappointed when I saw who I was going against. A man who looked to be in his 30s or 40s introduced himself as Justin.
Later, I found out he has competed in USTA tournaments before.
Oh great.
But, as the 1980 USA hockey team taught me, miracles can happen.
We stepped onto the court and warmed up. Then, it was game time.
He tossed the ball into the air and our epic match was off.
Ok, epic might not be the right word to use.
Domination would be a better word. Slaughter perhaps. Not by me, mind you.
Justin had me running all around the court. And while I was able to return serves decently well and extend points, let's just say I had about as good of a chance to win as a snowball has lasting for an hour in hell.
But, did I have my happy ending? Did I triumph over a seemingly unbeatable foe? Could this be the basis of an inspiring blockbuster movie?
No.
I took Justin to deuce in two games. That was as close to winning as I got and lost 6-0, 6-0. It was a thorough beat down, though he did give a word of encouragement. In all seriousness, he was a nice fellow.
No, that didn't make the beat down any more fun.
For the record, Justin did win the 3.0 bracket … so … at least I lost to the champ
That, in theory, should have been the end of my tennis excursion. I was tired and resting when organizer Patty Youngren asked if I would play someone in a match for fun.
I agreed and we traveled to Western Oregon to throw down.
It's a shame no one was there to watch that one because that had ESPN Classic written all over it.
Well, maybe not. But it was definitely fun and a lot closer than my first match, though that isn't saying much, all things considered.
He and I went back and forth in the first set. I dropped down 2-0, before winning my first game. I tried my best to lob, hit, slice and spike my way to a first-set victory, tying the set at five games each. I moved the court like Rafael Nadal, hit like Roger Federer and had the poise of Pete Sampras — if Nadal was an out of shape athlete, Federer an unskilled, slightly uncoordinated tennis player and Sampras an athlete who let frustration get the best of him multiple times.
I lost the final two games and the first set 7-5.
It was at this point I realized I'd have to win two sets to take the match. And the first set had as many games as my entire first match (12). I was getting tired. The temperature was rising and I was frustrated/disappointed with losing the first set.
All that equaled a 6-1 loss in the second.
By the end of the second match, I was exhausted and beaten. But it was an enjoyable experience and one that had me excited to continue playing tennis.
Turns out Novak had fallen earlier that day as well at Wimbledon.
See, even champions fall every so often, though his match may have been slightly bigger than mine.
Only slightly, though.