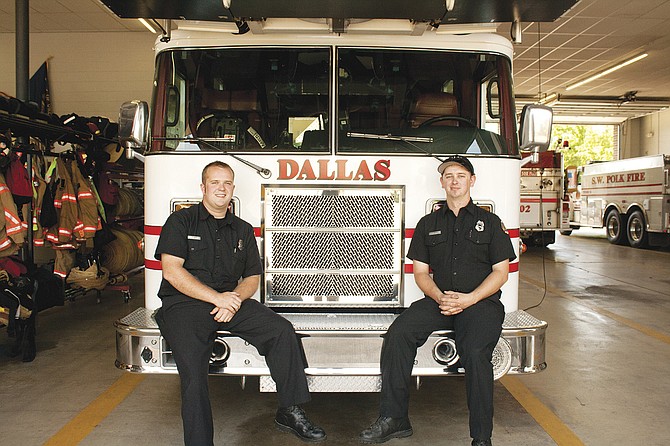 DALLAS — The Dallas Fire Department has been all-volunteer since 1878. That changed on July 5.
Since the department's first days, only fire administrators have received a regular paycheck for their services. All other firefighters have been volunteers.
That means Austin Champ and Jesse Friedow are making history in Dallas, being the first paid firefighters in the department, even if that status is temporary.
The pair will serve as seasonal firefighters and EMTs responding to daytime calls for the fire department and Emergency Medical Service's third ambulance. Both have served the department as volunteers — eight years for Friedow, 26, and 5.5 years for Champ, 24.
"I've been here eight years on the volunteer side, and just seeing the new direction of the organization, it's cool in a way because we are setting a precedent," Friedow said. "We are making history. At the same time, we are still here for the community just in a different capacity than we were before."
The two positions are budgeted for four months, through what should be the end of fire season, said department spokeswoman April Welsh.
She said master plans written for Dallas Fire & EMS and South West Polk Rural Fire Protection District clearly illustrated the need for better daytime responses in Dallas, and hiring seasonal firefighters for this year was a direct result of that.
"There will be a decrease in response times, which will be a benefit to our community," she said. "Our goal is to get the best service for our citizens."
Welsh said the department will keep close track of response times while Champ and Friedow are on shift.
"During that time, we will be doing a lot of data collection," Welsh said. "We are really going to be focused on the data."
The master plan revealed that Dallas Fire responded to fires within about 18 minutes 90 percent of the time, far from the department's goal of seven minutes for priority fires and special operations incidents within the city limits.
"The master plan was an eye-opening document," Welsh said.
Friedow said even since he began volunteering in 2008, he's seen the changes causing the longer response times.
"Since then, losing businesses in town, especially the mill, we've lost quite a few people," he said.
When not on calls, the pair will be maintaining fire engines and the fire station, including long-deferred tasks the department's administrative staff have not had time to complete.
"There is a list that Chief (Fred) Hertel has provided us," Champ said. "I think he's been building on this list since he became the chief here."
Friedow and Champ will be at the station during business hours, 8 a.m. to 5 p.m. on weekdays, so the equipment bay doors will be open and the public is invited to check out the station and ask questions about the department.
"We really encourage the community to stop by," Welsh said.