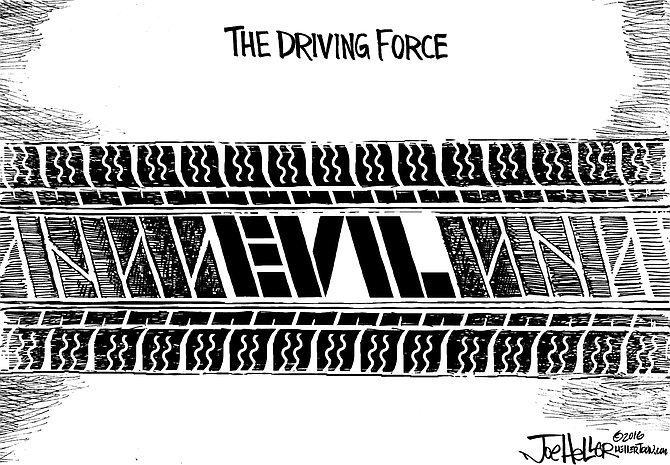 Great work on football field
We would like to say a huge thank you to all the volunteers who showed up this past week to work on the irrigation system at LaCreole football field.
It's wonderful to see the community come together for the betterment of our complexes for kids. It didn't go unnoticed.
Mike and Renee Sonday
Dallas
Marijuana grow is right in backyard
We have lived in Polk County for 38 years raising our family in a wonderful, safe, family oriented neighborhood.
We are now perplexed, for over our back fences, there is a marijuana growing operation run by two corporations that are leasing the property behind us. They have brought in two blue shipping containers to be used as offices.
We wondered if they had a license and legal permits for their business. The Polk County Sheriff's Department and the land use office referred us to the OLCC in Salem, who told us that the information was confidential and they couldn't tell us.
The land behind us that they are leasing has access off of Lee Road, but they choose to trespass across our private road to put in their barbed wire fences and electric gates, deliveries of water tanks, plumbing, rock, etc. Everything seems to be a big secret and our government will tell us nothing. Who do we turn to?
We want to thank our commissioner, Mike Ainsworth, for voting against this activity. Shame on our other two commissioners for voting this into our backyards and neighborhoods where children are present.
Jim and Kathy Bobeda
Dallas
Country living comes with noises
I am quite familiar with the rural area in which a local resident recently received an anonymous letter about noise. My family home of 40 years is there.
This is not a residential area or a gated community with its laws, by-laws and ordinances. This is an area of randomly placed houses along a country road, surrounded by farmland and separated one from another by acreage.
It is a storybook fantasy that a rural countryside is quiet and peaceful.
In spring, we hear the repetitive booms of the waterfowl guns, a system devised to prevent birds from damaging vulnerable crops. We hear the loud banging of the machine shop across the way, the humming of the pump in the river.
The smell of the local dairy greets our senses, as well as the whirring and grinding of farm machinery. Dust settles indiscriminately over lawns, shrubs and porches. These things are familiar, comfortable; this is home.
Life in rural America will carry on, as will the generational behaviors of the residents.
Anyone troubled by the uncustomary noise could easily say so, since communication is open between neighbors here.
Two weeks ago, a local family gathered to celebrate the graduation of two young men home on leave. These men have endured intense physical and academic training. Who can blame them for kicking up the dust with some target practice? I say, "Congratulations, men!"
A complaint in the form of an anonymous hate letter attacking this family is downright un-neighborly. It is out of character and outside of the country ethics.
I have one question of our poisonous pen pal: "Y'ain't from here, are ya?"
Karin McKinny
Independence
Dallas firefighters seek volunteers
Over the past several weeks, the Itemizer has done a great job keeping its readers informed on activities at Dallas Fire & EMS. You have read about the external evaluation, response times, and the two new seasonal firefighters who will bolster daytime response over the summer months.
The Dallas area has been served by a professional volunteer fire department since 1878. Dedicated men and women have freely given their time to help their neighbors. Dallas is the largest city in the state to still be served by a volunteer fire department (EMS is staffed by a paid crew of four 24/7) covering approximately 33,000 residents within a 125-square-mile response area.
We are fortunate to have visionary leadership, excellent training, quality equipment, and great community support from both residents and the city's elected officials. You may not know that Dallas Fire is dispatched to more than 1,000 calls each year.
We are part of the community health care system as 60 percent of the fire department incidents today are assisting our EMS crews or providing initial medical assistance when both Dallas medic units are on calls and an ambulance from a neighboring community arrives to transport the patient. The call volume for the fire department has increased by 40 percent over the last five years. Dallas EMS call volume has also increased to more than 3,200 incidents last year.
We are fortunate to have a dedicated group of volunteers, but our numbers are smaller than years past and our demand for service continues to increase as the size of Dallas grows and our population ages.
Our doors are always open to community members interested in joining our team. You won't receive a pay check, but you will have the satisfaction knowing you helped.
Eriks Gabliks
President
Dallas Volunteer Firefighters Association