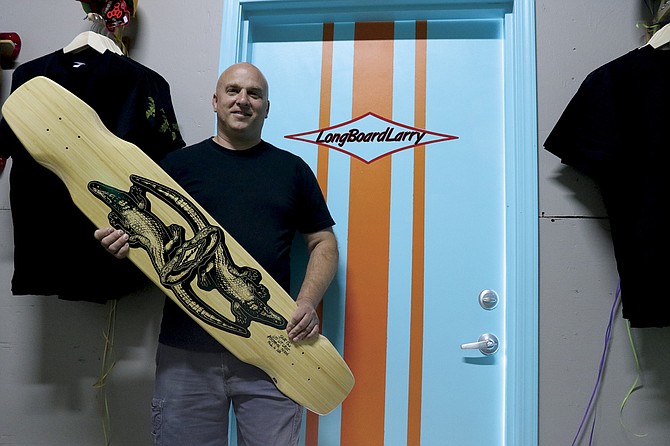 INDEPENDENCE — If not for a decision long ago by his older brother, Larry Peterson's life would look a lot different than it does now.
Peterson graduated from Western Oregon University with a biology degree and had his sights set on a particular field.
"The plan was to go to dental school," Peterson said.
He never made it to dental school. But Peterson, better known as LongBoard Larry, found something better. Now, he's ready to share his passion with even more people with the opening of his store, LongBoard Larry, located at 599 S. Third St. in Independence.
—
Peterson's love of building longboards was born out of necessity.
"My brother in high school built a longboard out of an old ski press," Peterson said. "He lost interest, so I rode that for a while until he decided he wanted it back. I figured I have to figure out how to make these things."
His first board, made from a flat piece of wood that he soaked in a kid's pool to try and bend it, was less than successful.
"It didn't work very well," Peterson said. "I think it cracked on the second day."
But he was intrigued by the process and began experimenting with different molds and techniques, learning how different designs led to different riding styles.
"I kept working at it and found different ways to build boards and bend wood," he said. "… I like figuring out ways to make cool stuff."

Before long, others took notice of his skills.
"It got to the point where people asked me to build them boards," Peterson said. "That was back in the 1999-2000 time frame. I was going to Western at the time."
The decision was made to start LongBoard Larry. He hired two high school students to work with him and they were off and running — though not with the grandest of beginnings.
"I started in a shed that was 200-square feet," Peterson said. "I did everything from pressing to cutting and painting in that shed for a long time. Then, we had a car tent, that's where we sanded the boards and then added a third shed because we were keeping busy."
In the decade and a half since then, they've expanded into bigger locations and sent custom-made boards around the world, but one thing was missing.
"In the 17 years, I've never had a retail store," Peterson said. "I've been out here for five or six years, but we'd have people say we tried to find you, but couldn't. (My wife) and I kept thinking we should open a store and finally said let's just go for it."
His retail store held its grand opening on Friday and features handmade longboards, skateboards, clothing and supplies.
"There really isn't a whole lot between Eugene and Portland in terms of skate shops," Peterson said. "We can help give some of the local kids some options and show what we have and what we make in a better setting."
With his first official store finally opening its doors, Peterson is ready for the next chapter in his business.
"Dentists can make a lot of money," Peterson said, smiling. "But I know I wouldn't have as much fun. Really, the sky's the limit with what we can make. If they can dream it, we can probably build it."