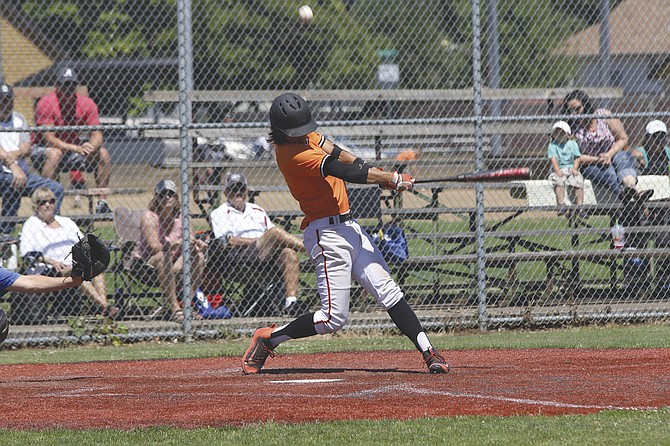 DALLAS — The DeMarini Dirtbags are headed back to the American Legion state tournament.
This time, they're looking to finish what they started in 2015.
The Dirtbags defeated the Columbia Gorge Hustlers 7-2 and 13-2 on Saturday at Dallas High School to win the best-of-3 regional. DHS graduate Tucker Weaver earned the win in the first game.
Central's Pete Mendazona dominated on the mound in game two, throwing eight strikeouts in six innings of work and had a perfect game going through the fourth inning.
"I just took the success we had in the first game and that gave me a little more confidence," Mendazona said. "I go out there every outing thinking I'm going to dominate. I want to do my best to give my team a chance to win and I did."
Dallas High's Tanner Earhart went 3-for-7 during the two games, scoring six runs and had five stolen bases.
The Dirtbags, which finished second in the Area 3 standings, enter the state tournament winners of five of the last six games.
"We really hit our stride toward the end of the season," Weaver said. "Hopefully we can keep that going through the end of the summer. We're confident. Everyone knows their job and we're getting after it."
The Dirtbags face the Bi-Mart Challengers from Eugene in the first round of the double-elimination tournament at Volcanoes Stadium in Keizer Wednesday (today) at noon. The Challengers defeated the Dirtbags in the state semis in 2015.
Eight teams advanced to the state tournament.
The tournament runs through Sunday. That gauntlet of games is difficult to conquer, but Weaver said they are ready to handle the pressure and the stress of the tournament.

"We're an experienced group of guys," Weaver said. "We have to stay relaxed and confident. We're buying into what we've done all summer. It's a matter of staying with that and not letting the moment get to us."

The Challengers skipped regional play thanks to winning the Area 4 regular season championship.
The two teams did not face each other during the regular season.
The Dirtbags came close to a state title in 2015, falling in the semifinals. Players are excited to write a different ending.
"We have to stay focused on every pitch, not only for me, but our team. If we can stay focused and execute, we'll do what we need to do," Mendazona said. "We know we're one of the best teams in the state, and we have a good chance for a title. We're going to go out there and see if we can get it."