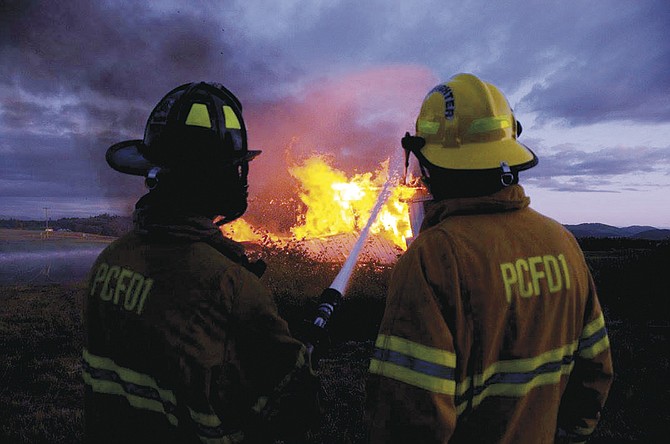 BUENA VISTA — If you noticed smoke and flames near the corner of Buena Vista and Prather roads on May 25, don't worry. It was just a training exercise.
That evening, Polk County Fire District No. 1 firefighters conducted a "live fire" training activity, according to the fire department.
Starting at 7 p.m., a double wide manufactured home was burned at the location, allowing firefighters to train with the realism and intensity of actual fire.
The exercise also gave firefighters an opportunity to build skills in exposure protection, mobile water supply, vehicle operation, pump operations and recognizing fire behavior.
Although this training exercise was for the Willamette Valley Communications Center (dispatch), district personnel were called to the scene later in the evening by a passer-by who saw the smoldering pile of debris and report it as an active fire.
Polk County Fire District No.1 is a combination career and volunteer fire district of four fire stations covering 185 square miles servicing a population of about 25,500 people in Southeast Polk County and Western Marion County.
The cities of Monmouth and Independence continue to form the heart of the District, with the communities of Buena Vista, Suver, Airlie, and Pedee forming the rural areas.
For more information, or to volunteer: 503-838-1510.
Photo by Neal Olson.