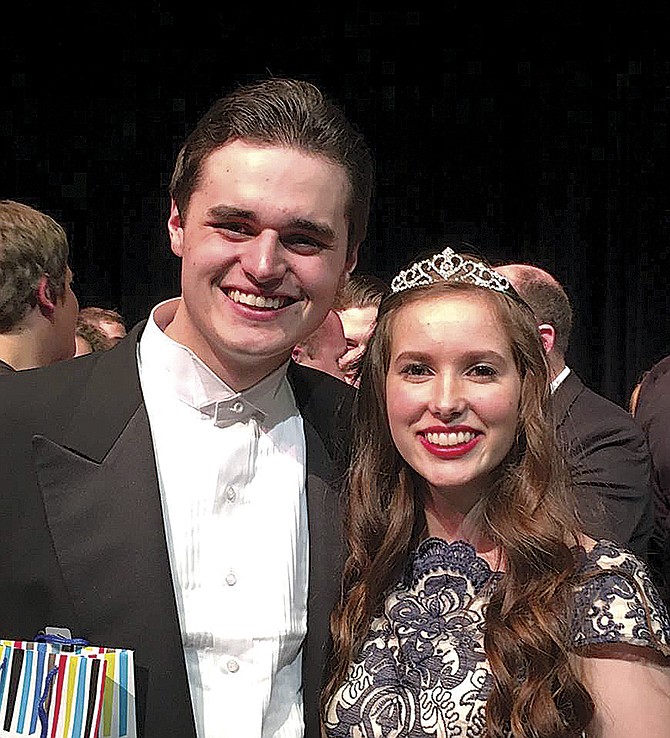 INDEPENDENCE — Central High School senior Hannah Boyack signed off for the last time on Friday.
"Stay classy, Central High School," she said, finishing her final morning announcements in her usual manner.
Boyack embodies the slogan, reaching out with kindness and class to those around her — even when it's hard.
The senior was home-schooled until her freshman year at CHS.
"When I chose to come to public school, I had this feeling that it would probably be a good thing for me," Boyack said. "Although there were parts about high school that I may not have loved, there was a lot of parts that I did. And it taught me to be kind to people in all situations, whether I wanted to or not."
Kindness is a priority value for Boyack, who organized a kindness campaign in November. She and a small group of students put signs all over the school to be kind to each other — even posting thoughtful notes on lockers of strangers — in efforts to spread a positive spirit around the school.
Boyack is perhaps most well-known around Central for her efforts in theater and music. She has starred in many of Central's productions. When she wasn't on stage, she was heavily involved in set design or other aspects of the plays.
She also has acted in several plays and musicals at Pentacle Theater.
Her favorite thing about theater is getting to know people and other characters by becoming someone else.
"You learn about other people and you're able to sympathize with people and understand people better," Boyack said. "I really like exploring how people work. I like happy people, so when I understand what makes people sad, it helps me understand how I can help them be happier again."
Theater and music are a big part of Boyack's life.
"Of course my big dream would be to perform professionally, but that's not the most important thing to me," Boyack said. "Having a family and doing other things are more important to me."
She said the career she will focus on is following in her mother's footsteps and teaching music and theater in high school. Hannah's mother, Wendy Boyack, actively helps teacher Jeff Witt with all musical productions, and is a teacher's assistant for the production class.
Hannah will attend Willamette University in fall and study music, with plans to add theater in later.
She said high school — not that it's Central's fault, she noted — hasn't really prepared her for life.
"I would say high school in general is missing some things to prepare you for adulthood," she said. "Like, I have no idea how finance works, or how to 'adult.' High school prepared me to pass classes, but I don't know how high school prepared me for other things."
Boyack's advice to underclassmen would be to be kind, respectful, honest and trustworthy — and try not to procrastinate too much, something that she started doing more and more after her freshman year.
"As a freshman, I was really determined to make sure everything was on time and be the best student I could possibly be," she said. "Unfortunately, I grew older and lost some of those good habits, partially because there were no penalties for late homework anymore."
During her four-year career at Central, Boyack had four different grading systems, which she said was frustrating.
"I think it's kind of silly," she said. "I think they should figure it out."
In spite of that, she earned high marks, which helped her get a merit scholarship to Willamette University. She has also earned other scholarships, which she said is good because it is an expensive university.
There are definitely things Boyack will miss about high school, and she said she will surely keep in touch with fellow thespians and some favorite teachers, but she is looking forward to the next step.