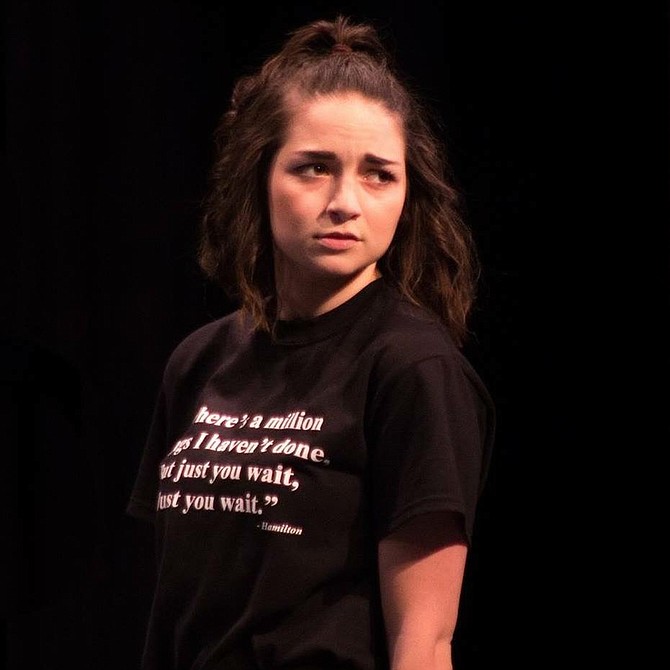 DALLAS — Alicia Scherer has crammed plenty of accomplishment in the three and one-half years she's attended Dallas High School.
"I always heard that the best part of high school is being as active as you could be, so I did everything I could," Scherer said Monday, just days before she will walk in DHS' Class of 2016 graduation ceremony.
She won filmmaking awards at the State Thespian Festival two years in row. She helped start DHS' film club, gay-straight alliance, and Stand for the Silent, an antibullying effort that successfully fought to have a Facebook page that was used to take down cyberbully students.
Scherer is a member of National Honor Society and the school's leadership class for three years. As a senior she served on the superintendent's committee finding ways to provide students with more privacy in locker rooms and bathrooms throughout the district.
For three years she's sang in choir, but she really found her voice in filmmaking and theater.
She attributes that to a collection of peers, teachers and administrators who encouraged and supported her throughout her various endeavors, particularly drama teachers Blair Cromwell and Aaron Fawcett and DHS Principal Steve Spencer.
"I'll always remember Blair Cromwell. She's helped me get to where I am in so many different ways. I have so much to thank her for," Scherer said. "I've already given her a couple of thank you cards, but I feel like I need to give her 10 more."
At the Dallas Thespians "Hammy" awards this year, Fawcett presented her with "Most Inspirational."
"I remember being inspired by him," Scherer said.
She used her high school experiences in Dallas to build a strong sense of self, something she says she's going to need where she's going.
Starting this fall, she's attending Relativity School, an arts school in Los Angeles, to pursue a bachelor's of fine arts degree in film and digital content.
Her dream is to find a career behind the camera.
Scherer acknowledges how intimidating her move to Los Angeles from Dallas will be, but also how necessary.

"I think if I want to get into the film industry, I need to be where it is," she said.
Scherer said she will need to stay grounded in a life philosophy nurtured in Dallas. "The grass is greener where you water it. You have to learn that the grass doesn't have to be greener on the other side, you just have to take care of your own grass," she said. "It's realizing what you have to bring to the table and not forgetting about it."
Spencer said Scherer has shown extraordinary leadership for the last three years.
He said she was proactive in taking on the cyberbullying problem at the school in her sophomore year.
"She has been an advocate for students with administrators in resolving issues in incidents of cyberbullying," he said.
He said he isn't surprised Scherer is pursuing a career in filmmaking. Spencer saw her talent for it early on and wrote a letter of recommendation for her application to Relativity School.
"I wrote something to the effect of, 'She will make you look smart for selecting her,'" Spencer said, then added, "She makes good decisions and makes the best of the opportunity."
On verge of taking an exciting and frightening leap of her own, Scherer said being scared is OK. It's what you do next that matters.
"If you are afraid to jump, then you probably should jump," she said.