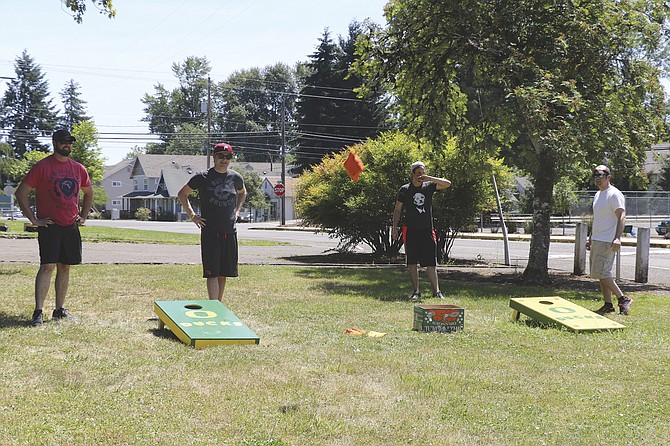 There's a belief that every competitive person has: that no matter what the situation, we'll always bet on ourselves to find a way to win. That we'll triumph against long odds, emerge victorious and proud.
And then there's what happened on Saturday.
The city of Dallas' triathlon field games featured corn hole, bocce ball and disc golf. I've had about as much experience playing those three games as I have in curling. And no, I don't have a secret life as a master curler.
On the bright side, that also meant I could unleash some hidden talents as a master bocce baller (?), corn holer or disc golfer. The team We The News was born and ready to dominate.
Of course there was one thing that we couldn't control that worried me — the heat. There was a time when I would have been OK with 97-degree weather thanks to living in Las Vegas. That time has long since passed.
And, like I'm sure many felt, the temperature felt roughly like the equivalent of sitting in an oven. In hell.
It was hot enough that organizer David Brautigam said more than 10 teams canceled. But I wasn't going to be intimidated by a little heat. I was ready to give the heat a roundhouse kick to the face, Chuck Norris style.
Corn hole was up first. My teammate (and coworker) Jolene Guzman went first. Then it was up to me. I grabbed the sand bags, took aim and threw it toward the board. Well … the more accurate statement was I threw it in the general direction of the board. Good news is no one was injured during my turn. Bad news was landing on the board or in the hole was … not happening.
My next round, I made some adjustments, took aim and attempted to channel my inner ninja.
I launched my bags high and arching — and proceeded to miss the board again.
It soon became clear that my goal changed from achieving victory to score a single point.

We lost a tight battle — 21-4. Jolene scored three of the four points.
But we did score. Mission accomplished (sort of).
It was time to redeem myself in bocce ball.
For the uninitiated, one player throws a white ball out, then teams take turns rolling balls as close as possible to it. To our credit, we had to measure almost every one of our shots because they were so close. The bad news is that required us walking back and forth to measure.
If the spirit of Chuck Norris was there … he wasn't helping. Instead the sun continued to beat down on us. We lost 15-6. Though losing meant we got to wait in the shade and drink water while others continued to play so who really "lost" that one?

The final event was disc golf. The 18-hole course at Dallas City Park seemed a little bit daunting. But, how hard could throwing a disc be?
On our first hole, I stepped forward and launched the disc into the air watching it sail toward the hole — then immediately swerve to the left, wind up in the road and go about as fourth as long as everyone else's throw.
On the bright side, I figured, it can only get better from here. Boy was I wrong. I had throws wind up in the water, the bushes, hitting trees and going in all sorts of directions.
It made my golf game look like a champion and let me tell you, it's not.
Add in the heat, and midway through the round, I wasn't focused on winning. I was focused on finishing the round without passing out (which I did thank you very much).
We The News may have failed in our attempt to grab glory in corn hole, bocce ball and disc golf. But I did learn one important thing — I probably shouldn't be the person who throws knives at people on stage because … frankly my aim isn't that good.