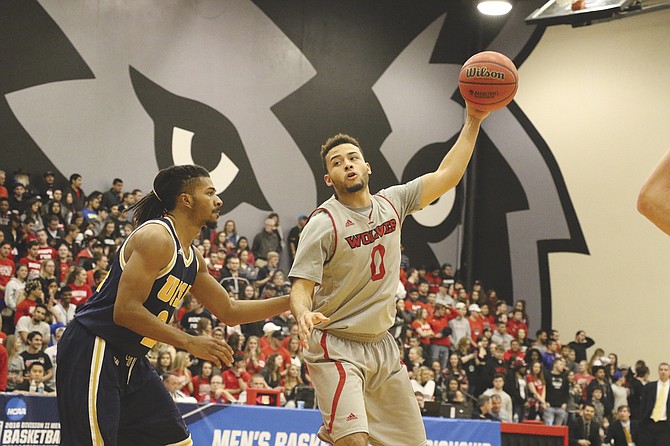 Editor's note: This is the first in a series of stories following former WOU players Devon Alexander's attempt to play professional basketball overseas. Look for more stories about the challenges he faces and whether he reaches his ultimate goal. An audio version of this story can be heard at www.polkio.com.
MONMOUTH — For perhaps the first time in his collegiate career, Devon Alexander took a deep breath and smiled.
Western Oregon's men's basketball team had just finished a historic season, culminating with a trip to the NCAA Division II Final Four — a perfect cap to his senior season. It also meant for the first time, there were no more games to prepare for, no offseason programs to adhere to.
"As soon as we played that last game in the Final Four, I sat back, took everything in and just relaxed," Alexander said. "It's been a grind like no other in my life. We put everything into this season."
It was, at long last, the end of an era.
But the closing of one chapter signals the start of a new one — the most challenging in his athletic life. Alexander isn't ready to walk away from the basketball court.
And he's willing to go anywhere in the world to see that happen.
Two weeks after the end of the men's basketball season, Alexander was back in the gym. This time, there were no teammates or coaches pushing him.
"Everyone has that dream of playing in the NBA," he said. "Then there's more realistic, true-to-you goals and realizing what's more possible."
For Alexander, that means playing overseas.
After discussing his options with coaches, friends and family, Alexander felt now was the time to try and make his basketball dreams come true.
Wanting to play professionally is something nearly all basketball players have dreamt about. Making that dream a reality can seem overwhelming.
According to statistics from the NCAA, 18,697 athletes played men's basketball at the collegiate level in 2016. About 12.2 percent, or just over 2,310 of those players, will turn professional in the United States or overseas.
Daunting odds for anyone, let alone for players from a Division II school.
But Alexander doesn't dwell on the statistics. He's focused on the positive: He has a chance to show what he can do.
Alexander will attend a camp in Las Vegas in mid-July.
"Basically you have overseas coaches and agents there looking at this selection of players," Alexander said. "Whether they are college athletes or other professional athletes trying to get a contract, you play in this camp and they will look at you."
Vegas is a fitting location for Alexander, who will be going all in on what is, for now, his only chance to impress potential suitors.
"I have to perform well to get something really beneficial for me as far as a contract goes," Alexander said.
With his playing career on the line, Alexander has been on an almost non-stop training routine.
Mondays are devoted to plyometrics — quick, powerful movements focused on increasing jump height and faster sprint times. Tuesdays and Wednesdays are basketball drill days, including everything from shooting to ball handling. Thursdays and Fridays are weight training days, along with at least an hour of shooting, and Saturdays vary depending on how his body feels.
Even Sundays, his "rest" days, aren't quite so relaxing.
"You want to put in the overtime and do more work," Alexander said.
The upcoming camp in Las Vegas provides the beginning of a new chapter. Alexander already has a long list of places he wants to go, including Germany and Italy.
But he's just hoping for a chance to travel anywhere.
"It feels like when you're coming out of high school all over again and deciding where do I want to go," Alexander said. "It's a good, nervous feeling. There's excitement, too. I'm ready to start my life."
But while July's camp provides an opportunity, there is also the chance for failure. If he fails to impress agents and international coaches, Alexander's basketball hopes would be on thin ice, at best. It's a reality he's considered, but isn't ready to accept.
"You can't get down," Alexander said. "It's a business now. You're getting paid to play well. I want to give it everything I got. Either it works out or it doesn't. As long as I have the opportunity, I'm happy."