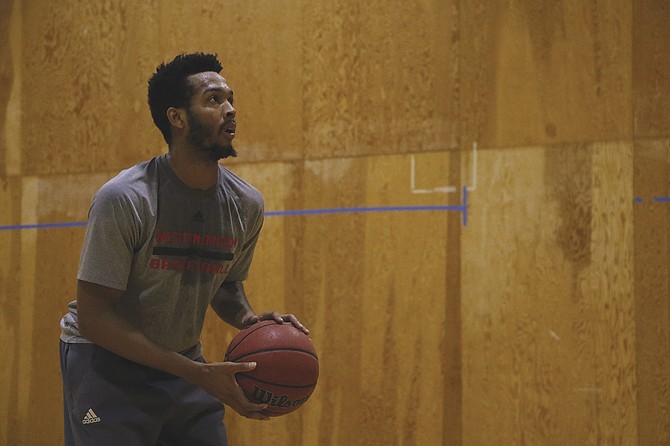 MONMOUTH — Turning professional in any sport is difficult. Former Western Oregon men's basketball player Julian Nichols knows all the numbers and the odds.
He's not worried.
"My whole life, I've had people say you can't play this position or you can't play there," Nichols said. "You hear those types of things and it motivates you. To be where I'm at now, I'm grateful and I'm blessed, but I'm definitely ready for the next chapter."
—
From his time playing at Upland High School in Fontana, Calif., to helping the Wolves reach the NCAA Division II Final Four, there has been one thing on his mind.
"I knew back in high school that I wanted to play professionally," Nichols said. "I never wanted to do anything else really. I looked at it as a reality that I'm a basketball player."
The path to this point has been anything but smooth.
Coming out of high school, Nichols, a 6-foot-2, 175-pound guard, planned on playing at Irvine Valley, but was told he wouldn't receive any playing time. He left for California State, Dominguez Hills the following year.
That dream was dashed when he was kicked off the team.
"I was crying in the gym every night because I didn't have a team," Nichols said.
Prior to the 2013-14 season, Chaffey Community College offered Nichols a chance to play.
He jumped on the opportunity and averaged 8.6 points, 5.5 assists, 4.6 rebounds and 2.3 steals per game. He began to get interest from several Division I schools, including Washington State and Santa Clara, but things unraveled quickly.
"The recruiter at Washington State, I don't know what happened but something fell through," Nichols said. "Santa Clara went with someone else. That's the business aspect of this sport. I was heartbroken."
With just a few weeks left in the signing period, Nichols went from being a sought-after player to one without a clear sense of where he could go to play.
Western Oregon entered the picture, and in two seasons with the Wolves, he helped lead WOU to historic success. He still remembers those days spent crying in the gym and knows those experiences will help him for the ups and downs of chasing a professional basketball career.
"A lot of my fire comes from not having an opportunity," Nichols said. "When I do have that chance, I will do everything I can to fulfill it to its max potential."
—
Since the 2015-16 season ended, Nichols has plotted out his course. He traveled to Bend on Monday to train with former professional football player and WOU alumni Kevin Boss and his staff.
"There are very few people who genuinely care about helping the next person," Nichols said. "He's one of those people. He asked me what I want to focus on. I told him I need to put on weight and work on my strength and athleticism. I feel like if I do that, everything else will take care of itself. I know it will be hard work, but hard work is, like, my middle name."
Keeping his basketball skills sharp is easy.
Finding a chance to show what he can do is the challenge.
"That's more of the business aspect that I'm really unsure about," Nichols said. "I can only control what I can control and that's my ability to play."
Signing with an agent could be the key to finding tryouts with teams, either in the United States or overseas, but finding the right agent isn't easy.
"I'm looking for someone who is up front and honest," Nichols said. "I want someone who has my best interest. I'm family oriented, so whoever is coming from the outside in, they need to know how I am and how my parents are. It's a relationship you hope you can build on as you go."
But he knows in the world of professional basketball, sometimes it's about who you know that can get you a chance, and Nichols isn't about to rush a decision as big as this.
"It's a real business," Nichols said. "A lot of people don't see that. It goes back to finding the right person, and you don't have to pay as much attention to that side of it because they have your best interest."
Not having an agent means finding those chances to show what he can do are few and far between.
"The most difficult part is the waiting process," Nichols said. "The past two years, we've had a season, then all our offseason programs. Now, you have to make sure you're ready on call. You get fuzzy vision, and start to think, am I doing this right?"
Those doubts are fleeting. Instead, he's focused on being ready whenever that chance may be.
"When given the opportunity, whether it's a tryout or a showcase or whatever, I'll be ready to go out there and perform like I've been performing these last two years," Nichols said. "The most exciting part is I feel like how I did the August before I first reported at Western. I'm excited to get to work, show what I can do and prove myself. I'm ready for this."