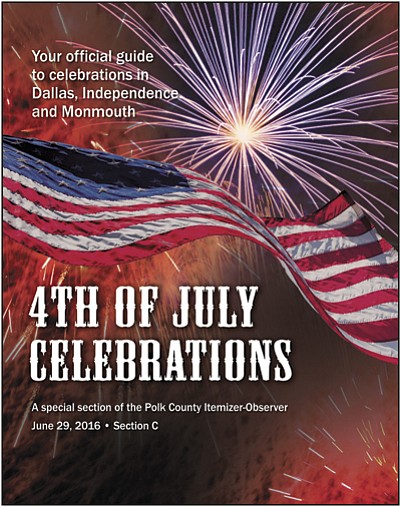 POLK COUNTY — The smell of freshly spun cotton candy, roasting corn, sunscreen and sulfur can only mean one thing: It's time to celebrate America's birthday, and nobody does it better than Polk County.
Whether you prefer a more laid-back atmosphere or the excitement of adrenaline-rushing carnival rides, one of our cities will have something for you.
See Section C
For a complete schedule of all the Fourth of July celebrations in Dallas, Independence and Monmouth.
Alcohol, fireworks and pets are not allowed in Independence Riverview Park during Western Days. Please leave those things home.
Celebrations kick off Friday night in Independence Riverview Park with a showing of "Jurassic World." Many food trucks also will be open Friday night, so grab a blanket and get ready to enjoy a dinosaur movie of epic proportions — picnic optional.
Don't forget to brave the carnival rides on Friday for only $1.
Saturday, festivities continue in Independence with the annual Hometown Celebration, a time set aside for locals to come out and enjoy the parks — and an evening fireworks display — without fighting the crowds of tens of thousands that gather there for the Fourth.
Monmouth's new Art in the Park festivities open at noon, with a Community Art Show at its new home in the fire hall across from Main Street Park on Warren Street, and arts and crafts for children.
Three bands will take the new stage at the amphitheater at Main Street Park throughout the day on Saturday, all locals.
Sunday, you'll have a choice between Monmouth and Independence. With the cities so close together, it isn't difficult to explore all they have to offer. Church services will open the festivals in both locales, followed by concerts and activities.
In Monmouth, the Willamette Valley Concert Band will play its patriotic concert Sunday night. In Independence, the band Romance will fill the air with Latino beats.
The evening wraps up in Independence with a showing of "McFarland, USA."
Fortunately, Falls City residents pulled together at the last minute and will host a parade on Saturday.
Monday, something is going on in Dallas, Independence and Monmouth.
From the Polk County Firefighters Breakfast in Independence, to the Mini Marathon in Monmouth, followed by the children's parade and the start of the Monmouth Independence Rotary Grand Parade — which finishes at Riverview Park — the morning is packed full with events.
In Dallas, the festivities begin at 5 p.m. at Roger Jordan Park. The celebration, called Freedomfest, is shorter than it has been in the past, with no sanctioned barbecue contest taking place in the morning and afternoon.
But that doesn't mean Dallas residents have to leave town to celebrate the country's birthday.
Delicious food trucks — Black Rock BBQ, El Pique and JT's Food Truck — will be serving dinner, and Johnny Wheels and the Swamp Donkeys will take the entertainment stage at 5:30 p.m.
The Dallas Fire Department will launch the fireworks show at dusk.