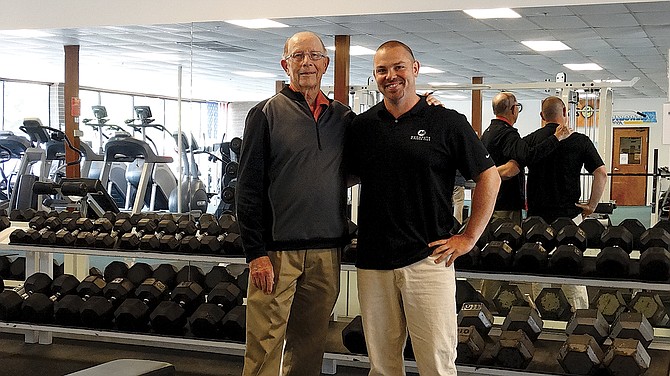 MONMOUTH — The Monmouth Fitness Club will be getting some new paint and techy equipment, but it will still be the same, comfortable haven for those seeking fitness.
Tony Jeffries, longtime manager, will take ownership on Friday.
"We're going to do some updates right away," Jeffries said.
Jeffries has been with Monmouth Fitness from the beginning, joining the club in August 2001, before it even opened its doors.
"I was going to college here at Western and signed up here," he said. When the club opened in September 2001, there weren't any other gyms to choose from.
When he graduated from WOU with a degree in physical education — non-teaching emphasis — what is now called exercise science — the manager at Monmouth Fitness hired him on as a fitness director.
"I was in charge of classes and the personal training and the floor," Jeffries said. "They were just trying to figure that stuff out."
Placement of equipment can make a difference in someone's fitness routine, or at least increase the experience.
"You want a comfortable entrance," Jeffries said. "We've got a women's area to allow a more private access. You want your cardio equipment next to your weight equipment — you don't want classes in the middle of that."
Baby-sitting services are available, and placed near the back of the gym near the Main Street entrance. Even that area will get an update.
"We're going to bring in some new stuff, give it a refreshed look, make it more inviting for the kids," Jeffries said. "It gets used by a lot of moms and dads. We probably have 25 or 30 kids that are in there on a weekly basis."
Jeffries used to teach classes, but is grateful to have more skilled instructors at the club now.
"I had no experience," he said. "I wasn't into aerobics, so I would just put on country music. We'd lift to Tim McGraw and George Straight. I had full classes, but I wasn't a great instructor."
The club offers about 35 classes a week, from yoga to spinning, aerobics and zumba to interval training.
Interval training — similar to CrossFit — is one current fitness trend Jeffries has noticed. Another is the increasing technical gadgets people use to connect to their health. New equipment will help club members make use of such gadgets.
"I have people who have three or four trackers," Jeffries said. "It's great for them. Then, I have people like John (McGonegal) the owner who still uses Notepad on the computer because he won't learn Word."
The technical trend extends far beyond wrist-wearing devices. The internet and social media play a much larger role in the gym world than it did when Jeffries started in 2001.
"Now people look at videos of our classes online, our layout," he said. "It used to be they never saw the inside of our club until they took a tour.
Monmouth Fitness is taking advantage of that by offering membership sign-ups online.
But even the most trendy, up-to-date gadget doesn't replace the sweat factor. To help members stay motivated to exercise, Jeffries organizes fun challenges, some with big rewards such as a free year's membership.
"Because it's Olympics this summer, we're going to have a MFC Olympics," Jeffries said. "Different days will be different programs."
While owning Monmouth Fitness was not what he thought he'd be doing — Jeffries had plans to tend bar in a resort Idaho town — he is glad he decided to make Monmouth his home.
"We've taken over this club after managing it for 14 years, and we're going to keep it the clean, family friendly place it's always been, with added updates," he said.