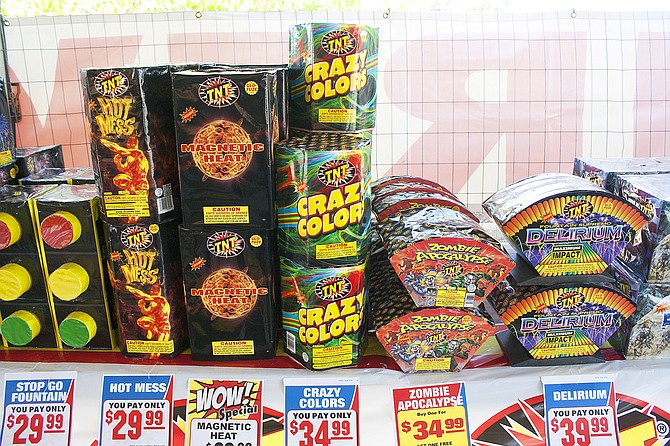 DALLAS — Mateasa Bathky saw it happen right outside the TNT fireworks stand in the Anytime Fitness parking lot off East Ellendale in Dallas.
Customers decided to put on a fireworks show in the parking lot, thinking it was a big and safe enough area.
It would have been, except for one detail: the dry grass bordering the parking lot. A spark from one of the fountain fireworks flew into the grass and lit it on fire.
"All it took was a tiny spark, even though they were 10 feet away from the grass," she said.
"Fountain" fireworks — those that send a cascade of colorful sparks in the air — estimate the height and distance the sparks will travel on the box. Bathky advises people to leave a little extra room just to be safe.
"They always go higher than it says," she said.
Bathky's story is a good reminder of how easily a July Fourth tradition can turn from fun to flammable.
Did you know?
• In 2015, there were 227 reported fireworks-related fires in Oregon, resulting in 28 injuries and more than $423,000 in property damage.
• During 2011 through 2015, there were 924 reported fireworks-related fires in Oregon resulting in one death, 161 civilian injuries, and more than $2.7 million in property damage.
For more information: www.oregon.gov/OS...
SFM/pages/licensing_fireworks_home.aspx#Educational_Materials.
— Source: Oregon State Fire Marshal's Office
She said people should read directions on fireworks carefully and not be tempted to improvise.
Bathky said more than a few customers have assumed the stick on "rocket" fireworks is a handle, like that on sparklers.
"It (the directions) clearly says 'stick in the ground,'" she said. "But people say, 'There's a giant stick. It must be for me to hold.'"
No, it isn't, Bathky said, and if used that way, the result would be painful as the rocket fires sparks from the top and bottom.
Bathky added it's good to keep a source of water around in case something does go awry.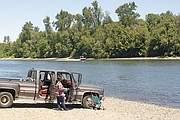 The Oregon State Fire Marshal's Office (OSFM) agrees, and offers an easy-to-remember four-step fireworks safety checklist, "The Four B's."
• Be prepared before lighting fireworks: Keep water available by using a garden hose or bucket.
• Be safe when lighting fireworks: Keep children and pets away from fireworks.
• Be responsible after lighting fireworks: Never relight a dud. Wait 15 to 20 minutes then soak it in a bucket of water before disposal.
• Be aware: Use only legal fireworks and use them only in legal places.
OSFM officials also warn people to keep their celebrations legal.
If you are planning to visit Oregon parks, beaches or public forestland over the holiday, it may be best to leave the fireworks at home, as their use is prohibited at those locations.
Oregon law bans possession, use, or sale of fireworks that fly, explode, or travel more than six feet on the ground or 12 inches into the air.
Fireworks commonly called bottle rockets, Roman candles, and firecrackers are illegal in Oregon.
Your best bet in making sure you are following the law is to purchase fireworks at permitted retailers and stands in Oregon.
If you don't, officials may seize illegal fireworks and fine offenders up to $500 per violation. You also could be responsible for damages.
"All Oregonians share the responsibility to use only legal fireworks and use them carefully," said Chief Deputy State Fire Marshal Mariana Ruiz-Temple. "And we encourage you to be aware and considerate of neighbors and their pets, before deciding on when and where you choose to light fireworks."