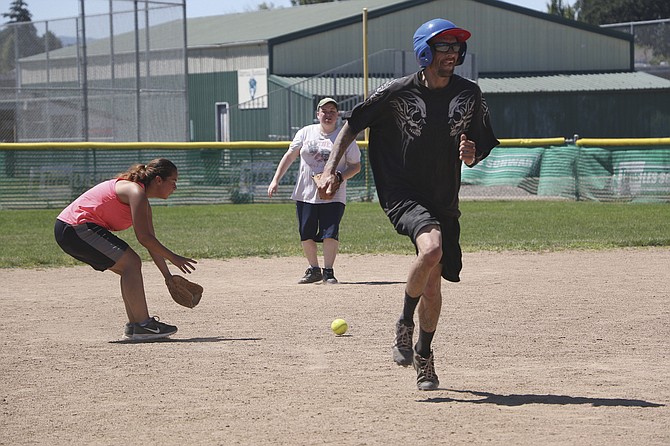 POLK COUNTY — If there's one thing Shirley Wimer didn't like it was sports.
"The truth of the matter is I'm not a sports fan at all," Wimer said. "I couldn't care less."
It may seem strange then to see Wimer helping to coordinate and coach a bocce ball team. But this is no ordinary team and, for Wimer, like many of the volunteers, this is no ordinary calling.
—
Wimer is one of several volunteer coaches for Polk County's Special Olympics Oregon — an organization that provides year-round sports training and athletic competition for children and adults living with developmental and intellectual disabilities.
"My daughter, Sabrina, turned 30 on Sunday," Wimer said. "She's been participating since she was 7. That's where I got started was as a spectator."
She transitioned from the stands to the field when Special Olympics Oregon needed more volunteers. She soon found out that seeing the joy on the athletes' faces when they competed made volunteering worth it.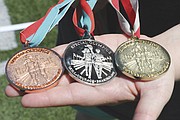 "I wanted to make sure everyone was able to go to competitions," Wimer said. "I love watching these guys. They get so excited about being able to compete."
Gary Kluver, local program coordinator and co-sports manager, joined Special Olympics Oregon about five years ago.
For him, the chance to affect people's lives in a positive way was too good of an opportunity to pass up.
"Honestly it's fun to see them improve and make a difference," Kluver said. "You see them passing on information and skills that I've learned over the years myself."
Kluver helps coach softball in the summer, which has around 25 players split into two teams.
Bocce ball and track and field each has a handful of athletes competing. Athletes will compete at the summer state games July 9-10 in Newberg.
The fall season, which features swimming, soccer, volleyball and bowling, begins in September. Sign-ups will be held in early August, Kluver said.
The Polk County section doesn't boast the numbers of other areas in the state, but smaller groups do have their advantages.
Jim Ezell moved to Polk County from Corvallis about a year ago with his wife, Anne. Together, they participated in Special Olympics in Benton County.
The difference has been night and day.
"Corvallis is a little more competitive," Jim said. "They have at least 40 coming out for bocce ball. Here, it's a handful. Corvallis is a little more strict. Here, it's more family oriented. It's like how it was when I first started in 1991 when it was a lot of fun."
Wimer said she hopes to see an increase in participation numbers over the next few years. But with increased numbers comes a greater need for volunteers.
You don't need a deep background in sports to help out.
"Really the opportunities are endless," Kluver said. "If people want to help out, we'll find a way for them to. Some of it is just coming to practices and being a fan in the stands — being someone cheering them on. The athletes appreciate that, and they love having people come watch them and follow them through competitions."
For those who do volunteer, the experience can affect them in ways they never imagined and be as beneficial to them as to the athletes they are helping.
"It's a great opportunity for anybody to get involved," Kluver said. "I believe we get impacted more than we impact other people's lives. It's a life-changing experience for everybody involved."