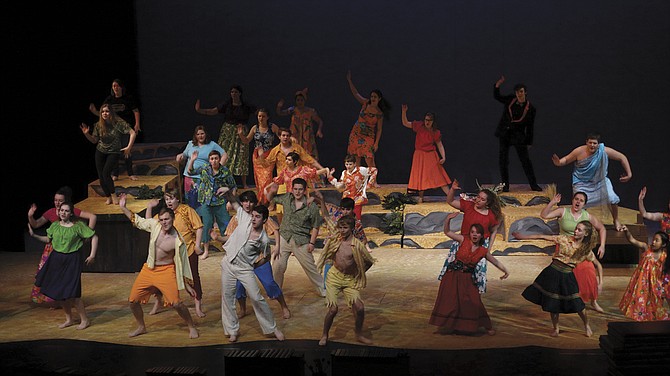 INDEPENDENCE — Shake the winter blues by taking a short trip to the islands with Central High's performance of "Once on this Island," which opens Friday night at 7:30.
The musical is light-hearted and fun, said director Wendy Boyack.
"It has that Caribbean kind of feel to it, and gave a lot of … the younger kids the opportunity to move into important roles," she said.
The show is written for as few as 12 people, but gives the directors the liberty to tell the story with more. With a strong group of seniors graduating this year, Boyack said the play offered a great chance for younger actors to prepare to fill those shoes.
"Once on this Island" is a sort of island fairy tale, telling the story of Ti Moune, a young girl who lives in the peasant world, played by Hannah Boyack. But she has bigger dreams.
"I think it's a show with a really good message about the strength and testament of love and friendship and commitment," said Forrest Deters, who plays Papa Ge, sly demon of death.
Ti Moune sets out to prove the power of love in the face of death, guided by the four gods of the island: Erzulie, beautiful goddess of love, Agwe, god of water, Asaka, mother of the earth and Papa Ge.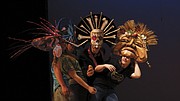 The show, which combines a lot of dancing with singing, was challenging for the young actors in various ways. One is the costumes the gods will wear, with large masks making movement tricky.
"My song in particular is really hard because I hold lots of long notes," said Dylan Lewis, who plays Agwe. "Because I'm the god of water, I'm kind of like an octopus, so all of my movements have to flow and involve major movement of the arms, torso, all while holding notes and singing."
Reba Hoffman, aka Erzulie, said constant swaying of the hips has built up muscles in places she didn't realize she had them.
"My hips actually have muscle now," she said. "The first couple days, I was super sore."
The movement has also been challenging for Abby Miller, who plays Asaka. At first, she pictured the mother of earth as a regal queen, but was told she needed to play the role more down to earth — literally.
"My character's supposed to be squatting the entire time," she said, "like you're harvesting wheat or giving birth."
Live the island story
What: Central High School's production of "Once on this Island."
When: Friday at 7:30 p.m.; Saturday at 2 p.m. and 7:30 p.m.; March 10, 11 and 12 at 7:30 p.m.
Where: Central High School auditorium, 1530 Monmouth St., Independence.
Admission: Adults, $8; students $5 with ID; student night special on March 10, $3.
Of note: The story of Ti Moune is a warm, heartfelt story appropriate for people of all ages. The play has a later than normal start time, but is also a short production, lasting about 80 minutes.
For more information: chsperformingarts.org.
As of Thursday's rehearsal, the four students who play the gods were still working out how to move with the masks and polishing up their performance.
Deters, who usually plays a good guy in Central's performances, is enjoying the role of the "bad guy."
"This is a kind of role I haven't been able to play before," he said. "It's just really fun to not have to be doing the right thing the whole time. That's not to say my character is mean or evil, he's just doing his job — and he likes his job."
It's the gods' job to be the story tellers, sort of puppeteers, Hoffman said.
Indeed, it is the gods who start Ti Moune out on her journey, from the moment she meets Daniel, a boy from the other side of the island of wealthy heritage.
The play combines classic fairy tale concepts: girl meets boy, they fall in love and meet with conflict.
It is a sort of Romeo and Juliet meets the Little Mermaid by Hans Christian Anderson and addresses some serious topics about the class divide in a warm, light-hearted way.
The sense of fun is never lost through the beautiful music and dancing — and the sense of humor of the gods.
It's a short play, just about 80 minutes long, and a bonus to the Central Performing Arts schedule, said co-director Jeff Witt.