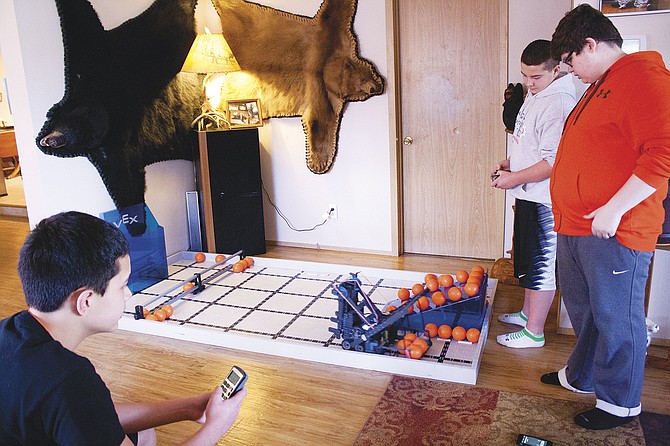 DALLAS — LaCreole Middle School robotics team "Shift" didn't start this season with the perfect robot.
That wasn't a problem.

Shift members Kahl Murdock, Gavin Boyson and Ryan Nguyen made continuous improvements in its robot prototype. Shift was on its third version on Feb. 27 when it took a state title at the Vex Robotics IQ Oregon State Championships.
"We've learned from many mistakes," Kahl said, smiling.
The achievement is more than just creative robot building. Teams are tested on their skill level in operating and programming their robot, their use of design, and teamwork. Competitors have to keep detailed engineering journals and be able to explain their projects to judges during competition.
If that is not enough, teams are required to conduct a science experiment and report on the results to another set of judges.
To win, the team has to score high in a majority, if not all, of those components.
In a surprise to the team — but certainly not to robotics coach Jacob Gradek — Shift did, earning a trip to the Vex Robotics IQ World Championship in Louisville, Ky., in April.
The team still isn't satisfied with its robot. Team members did some research on their competition and realized it is going to have to score a lot more points on the field to have a chance at a good showing.
They tested a new prototype Monday, methodically noting the fixes they will have to complete before the competition.
Gradek said it been fun to watch the team improve throughout the season.
"Clearly, though, these guys, as far as robot building, they don't need me anymore," he said.
Gradek is focusing on helping the team with other aspects of the competition — and raising funds to get the team to the tournament.
"Last year, the high school had a team go to worlds," Gradek said. "It's neat to see this team follow in their footsteps."
Ryan said he's looking forward to "the experience of going to a big competition."
Gavin and Kahl — who both want to go into technology fields — noted that college recruiters were going to be at the competition.
Gradek said he believes Shift is up to the challenge.

"I've never seen a team work this well before," Gradek said. "It's what got them there."

LaCreole has paid for the team's entry costs, but travel costs will be up to the students. The team will be at Wal-Mart Saturday from 11 a.m. to 5 p.m. and Sunday 1 to 6 p.m. collecting bottles and cans.
A Go Fund Me account has been set up for expenses https://www.gofundme.com/6c4r3w.