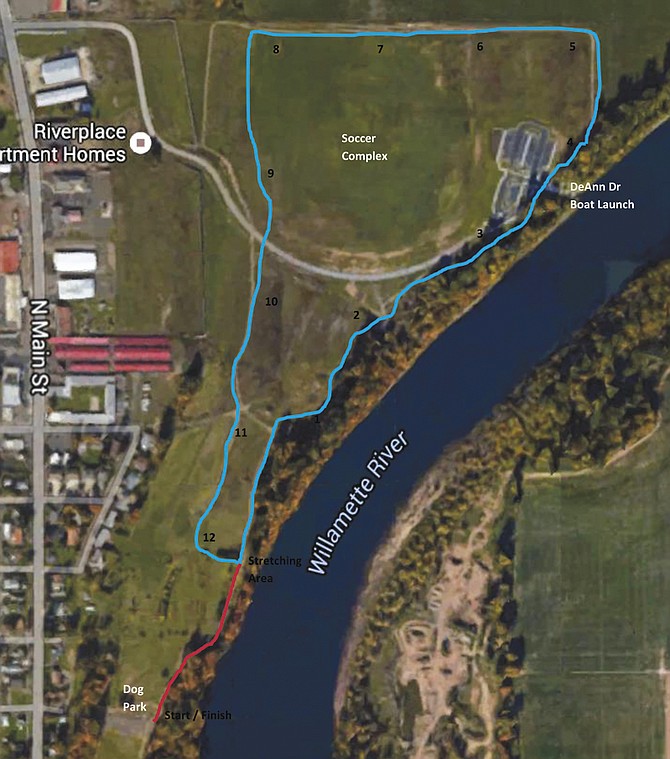 INDEPENDENCE — The 1.5-mile loop trail from the Independence Dog Park around the soccer fields is about to get more interesting.
An obstacle course with about 12 fitness stations will be installed along the pathway this spring, said Independence Sgt. Justin Hedlund, a coordinator of the project.
"I think that things like this would be really popular and help people just kind of make fitness more fun," he said. "As opposed to just going out and putting in miles, they could have obstacles if they wanted to."
Stations will include classics such as a tire field to practice old military style quick step and a place to do burpees and sit-ups.
"We will have stationary walls that people can vault over," Hedlund said.
Other stations include a balance beam, stretching station, pullup station and tire flip, he said.
Three pieces of equipment were purchased with money from a grant from Heal Cities, including a combination obstacle.
"It's a rope climb with a descending hand-over-hand ladder to a lateral hand-over-hand ladder," Hedlund explained. "It's 30 feet overall."
At the start of the trail, general information about safety and heart-rate monitoring will be installed. At each station in the fitness loop, signs will provide basic information on how to use each obstacle, Hedlund said.
"Because of our bilingual community, we wanted to make sure we had signage in both English and Spanish," Hedlund said. "To do some of these explanations, I've reached out to some of the fitness people in our community to make sure we explain these accurately."
One option may be using QR codes with links to short videos for each station, showing how to use it.
"That would make translation much easier," Hedlund said.
Once the equipment is acquired, the installation should go quickly, he said.
"We're going to need building products, donations from area businesses such as lumber, logs, things like that," Hedlund said. "We're seeking some of that stuff out. We're also going to need manual labor volunteers to come out and help us cut this trail in and do these installations and help us build these things."
For more information or to volunteer to help: Hedlund.justin@ci.independence.or.us, or call the non-emergency number at the Independence Police Department, 503-838-1214.