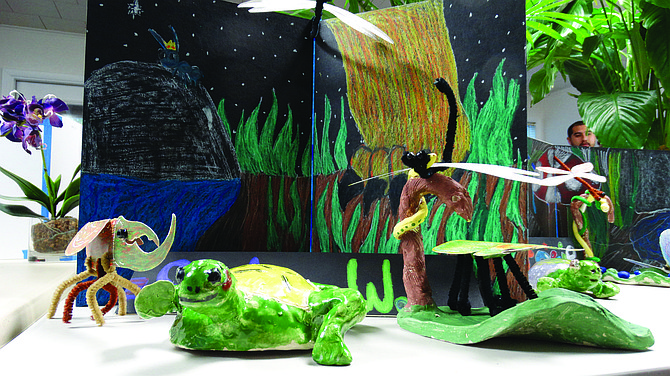 MONMOUTH — Deep in the jungles of Monmouth lay a forest in the clouds.
"There's a lot of bugs that live there," said Elle Denney. "They're nice. Some are mean; some are nice. You will find a beetle. You will find a butterfly.
"You could probably also find ants, turtles or monkeys," said Sadie Welborn as she used colored pencils to design the background of her diorama — a three-dimensional display — during Ash Creek Arts Center's spring break arts camp.
Ash Creek summer camp
• Ash Creek Art Center will hold an art camp this summer from July 18 through 21 from 10 a.m. to 12:30 p.m.
• Children will work together to design and make their own puppets.
• They will also learn about puppets, from the Bunraku puppets of Japan to Kermit the Frog, used as dramatic ways to tell stories that evoke a sense of wonder and meaning.
• Camp is free for students in grades four through seven.
• Space is limited and advanced registration is required.
• To register: www.ashcreekarts....
What's another bug that lives in the cloud forest?
"It's on the top of my tongue," said Oscar Ibarra. "I was just talking about it in my brain a couple minutes ago."
Ryder Stewart pipes up, "Damselfly."
All the while, these young artists patiently and purposefully experiment with colored pencil techniques to create a world within their minds — a world they've never seen in person, but have studied online and are re-creating with clay and paper figures — the cloud forest.
It is a place similar to a rain forest, but with constant or regular low clouds. It also is called a fog forest, Oscar said.
"It basically has the same animals as the rain forest," he said.
Oscar showed his work to Francie Zandol, the coordinator and director of the Ash Creek Arts Center's art camp. It was of tall grasses on a black board, and will create the backdrop of his diorama cloud forest.
"I used white," he said. "I didn't want to use just green, or it would be a big blob. I wanted it layered."
"You're creating depth with color," Zandol observed.
Oscar and Zandol discussed ways to create different shades to really give his grass dimension.
"I want light greens and dark green," he said.
One way he could make different greens is by combining yellow and blue, Oscar noted.
Ryder took his work to Sonia Allen, art camp instructor. She held it up for him so he could change his perspective.
"What do you want to add?" she asked. "Sometimes you just have to take a step back."
Ryder pointed to a couple of spots on his boards. Here, he would add a flower. There, he would add an insect.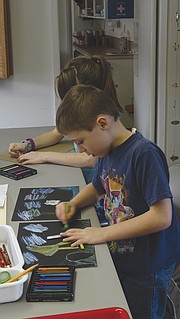 In another room, a second group of youth worked on clay animals and large leaves that would be found in the cloud forest.
Ashley Moore painted spots on her pink jaguar while her sister, Grace, worked on a yellow jungle cat.
Jessie Welborn put markings on her frog.
All the animals were made from scratch with soft clay before being painted, glazed and fired.
It can be tricky to determine exactly what the final product will look like because the paints change color after the glaze is applied, Jessie explained.
"When you do the glaze, everything turns darker," Jocie Dunmire noted.
Jessie combined primary colors to achieve her final look, mixing yellow and red to create a different orange than what was available.
"I'm not really sure how these colors will turn out," she said.
Angel Ibarra has been working with clay since the first grade. Now in fifth grade, he has enjoyed many art camps and classes through Ash Creek Arts Center.
"The fun is when you're putting the pieces together," he said. "It could take a day or a week. It's easy, fun, and you don't know what you're going to make."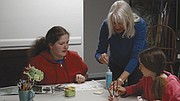 Angel said the clay often speaks to him. Once he has an idea of what he wants to create, he does research online about the animals. He enjoys the creativity of art, especially ceramics.
"It's just fun," Angel said. "You can make your own stuff. No one can tell you how to do this, how to do that."
The young artists hosted a reception on Thursday at St. Hilda's Episcopal Church, where the art camp was housed.
James Moore, father of Ashley and Grace, was surprised to see his daughters' work.
"They're talented with everything," he said. "But this is new."
Zandol will host a second art camp in June, teaching children how to make puppets.
Classes are limited to 16 students. Register online at www.ashcreekarts.org.