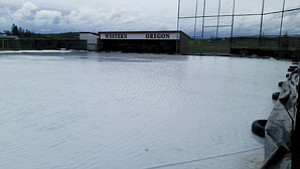 HILLSBORO — Thanks to a two-game sweep of Saint Martin's, Western Oregon softball coach Lonny Sargent surpassed 300 career victories on Saturday.
Junior infielder Lexi Jennings had walkoff hits in both of the matchups, helping the Wolves defeat the Saints 4-2 and 4-3.
In game one, a two-run home run by Destiny Kuehl tied the game in the sixth inning and Jennings hit a two-run home run in the seventh to clinch the victory.
In game two, Jennings hit to center field in the eighth inning — driving in the winning run once again.
"I think we have a lot of fight," Kuehl said. "Even at the end of a game, we don't give up. Even the freshmen are stepping up. Everyone brings something to the team."
The Wolves split a doubleheader with Central Washington on Friday, winning 3-2 before dropping the second game 2-1.
The only thing that would have made the moment sweeter was if the games had taken place at home — a luxury that WOU hasn't yet experienced in 2016.
Weather conditions have forced home matchups to be delayed, moved or canceled.
"It really took a turn when we played Central Washington (on March 6)," Sargent said. "We were expecting to be at home, and that made a huge difference in our season, I think. Players were bummed. Family members were bummed. We're really good at home. The bad thing is, we don't get to play at home for a while. Other people are able to play at their fields. That's a bummer for us to walk away from here."
The Wolves dropped that doubleheader.
The source of WOU's home field woes is the rain and an outfield that can't drain quickly enough.
"Our infield is in great shape," Sargent said. "We have a great tarp and can get that ready. If our outfield had a better drainage system, we could have been playing on it (last weekend)."
Instead, Western Oregon has seen home games become road games or neutral-site games. Players hope the team's success over the weekend is a sign that the Wolves won't be bothered by playing on the road anymore.
"I think it was stressful at the beginning because everyone wants to play at home," Kuehl said. "Coach told us that everyone has games pushed back. We have to find a way to fight through it."
Kuehl has been a bright spot for the Wolves.
The junior leads the team in home runs with seven, runs scored (21) and RBIs (24) and is second on the squad in hits (32) and batting average (.432).
"I don't think up there," Kuehl said. "I see the ball and hit the ball. My mindset is I just can't give up. I can't let my team down."
Western Oregon will compete at the Tournament of Champions in California this weekend before hosting four straight days of conference home games April 9-12.
If the weather doesn't cooperate then, the Wolves (15-15 overall, 10-10 Great Northwest Athletic Conference) are facing potentially a full season on the road, but Sargent isn't about to let that do the Wolves in.
"We're facing the fact that we might not play at home at all this year," Sargent said. "… We're coming together as a group, which is fun to watch. Our leadership this year has been really good. We are just making a big switch mentally and knowing that we've lost a few games we could have won. We know we have to compete well in order to challenge and possibly beat these teams."