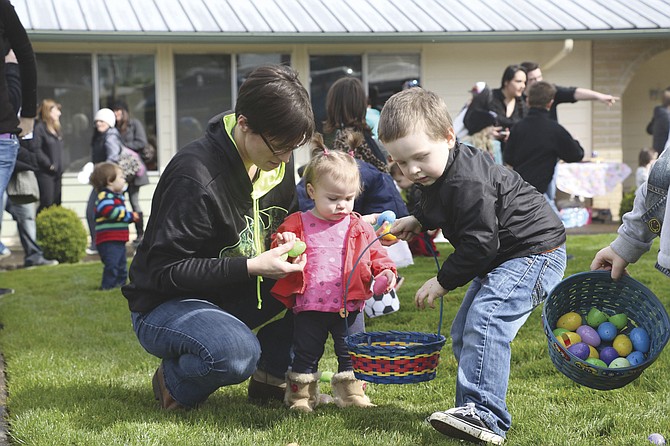 SA offers financial literacy classes
The Salvation Army of Marion and Polk Counties will host financial literacy classes beginning Tuesday. Classes will run each Tuesday through April 26 from 6 to 8 p.m. at the Dallas Academy Building, Suite 220.
Topics include budgeting, facing debt, saving money, identity theft and credit reports.
Oregon State Credit Union's Amanda Brenneman-Brown will teach each session. There is no cost to attend.
To register: Nicole Bats, 503-623-9664, ext. 2481 or send an email to Nicole.bats@usw.salvation
army.org.
Bookstore to host a meet and greet
Local author Carl Lee Scott will be at Calmlee's Bookstore, 147 SW Court St., Dallas, on Saturday from 5 to 7 p.m. Scott will have copies of his novel, "The Vow" available for $15.
Parish Gap will perform at Tony's
Classic rock band Parish Gap will perform at Tony's, 127 SW Court St., Dallas, at 9 p.m. Saturday.
The band will feature a mix of classic rock hits and original music.
For more information: www.parishgap.com.
Dallas recycle event on Saturday
Republic Services will hold a Spring Clean-up event for Dallas Residents on Saturday from 9 a.m. to 2 p.m. at 1030 W. Ellendale, Dallas.
Accepted items include yard debris, clean wood, scrap metal and assorted rubbish.
Household trash, paint, tires and chemicals are not permitted.
For more information: Rachel Snyder, 541-754-0444.
Boy Scouts begin can, bottle drive


Boy Scout Troop 288 will collect bottles and cans on Saturday from 9 a.m. to 2 p.m. in the Rite Aid parking lot, 178 W. Ellendale, Dallas.
The bottles and cans drive is a fundraiser for equipment.
For more information or to schedule a pick-up of bottles and cans: Venessa, 971-506-2823; email to dvdk1402@gmail.com.
Annual Survivor Dinner is Saturday
Eola Hills Winery will host the Relay for Life's Survivor Dinner and Celebration on Saturday. Doors open at 5:30 p.m. with dinner being served from 6:15 to 8 p.m. at Eola Hills Wine Cellars, 501 St. Pacific Highway (99W), Rickreall.
Entertainment will be provided by Oregon Spirit. Relay for Life of Polk County and Team Perrydale is sponsoring the event.
Every survivor and guest will be guests of honor.
To RSVP your name and one guest: Vicki Bailey, 503-623-5241. RSVPs are encouraged.
Ninth annual Dragon Run sign ups begin
Registration is open for the ninth annual Dragon Run on April 9 at 10 a.m.
The Dragon Run features distances for kids of all ages ranging from a quarter mile to 1½ miles long.
There is also a 5-kilometer run for adults, teens and younger kids (accompanied by an adult).
Starting locations differ based on distance, but each race will finish on the Dallas High School track.
Register by Saturday to guarantee a race T-shirt designed by one of the middle school art students.
Every runner will receive a medal.
After covering the costs of the event, the rest of the money raised will be donated to the Dallas Education Fund.
Cost is $25 for the 5k run and $20 for all other distances. A family/group rate (four or more runners) is available.
To register online: www.runsignup.com/DragonRun. Day-of-race registration will also be available at Whitworth Elementary School.
Pottery class will begin Tuesday
A weekly pottery class begins Tuesday at 3 p.m. at Monmouth Senior Center, 180 Warren St. S., Monmouth.
Elinor Maroney will teach the seven-week class on Tuesdays through May 17.
Maroney will instruct participants on several methods of hand building, pinching, coiling and rolling slabs of clay to make bowls, cups, vases and other original forms.
No artistic talent or prior experience required.

Cost is $68 and needs to be paid prior to the class. A scholarship for $20 is available for qualified individuals. Sign up is in the senior center office. For more information: 503-838-5678.
WOU holds April 9 discussion on race
Western Oregon will hold a guided conversation on race in Oregon on April 9 from 6:30 to 8:30 p.m. in the Columbia Room at the Werner University Center on the WOU campus. The conversation will center around the question, "Why aren't there more Black people in Oregon.
Walidah Imarisha, author and adjunct professor at Portland State University, will guide the discussion, which is open to the public.
Attendees are also invited to watch a Hip Hop concert that begins at 8:30 p.m. in the student center, featuring Warren Sipes. Sipes engages participants in music through deaf eyes. He uses sign language to perform his poetry and lyrics.
Both programs are free.
For more information: www.forhumanequality.org.
'Pushing the Edge' new WOU art show
The Dan and Gail Cannon Gallery of Art on the campus of Western Oregon University presents Pushing the Edge, a new show that will run from Wednesday (today) through April 22.
The show will feature the works of Jessica Benjamin, Alfonso Gosalbez, Henry Jabbour, Ian Factor and Gregory Poulin.
A reception with the artists is scheduled for April 13 from 4:30 to 6 p.m.
For more information: 503-838-8607.
Dallas Library book sale this weekend
The Friends of the Dallas Public Library will hold a book sale on Friday and Saturday at the Dallas Civic Center, 945 SE Jefferson St.
The sale, which runs from 3 to 7 p.m. on Friday and 10 a.m. to 4 p.m. on Saturday, will feature $1 hardcovers and 50 cent paperbacks. A bag sale will also be held from 3 to 4 p.m. on Saturday.