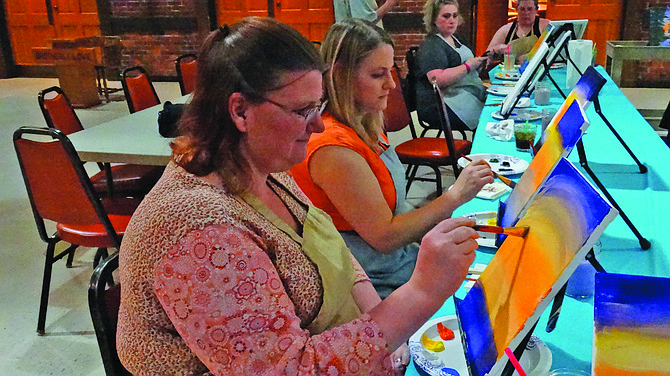 WV Hospice to hold jewelry sale
Willamette Valley Hospice, 1015 3rd St. NW, West Salem, will hold a jewelry sale Friday from 3 to 6 p.m.
New and used jewelry will be available. Most items are priced between $2 and $25.
The sale will raise money for Camp Might Oaks, a camp for grieving children and their families.
For information: Dawn Hemstreet, 503-588-3600.
Master Gardeners plant sale returns The 26th annual Polk County Master Gardeners Plant Sale returns this weekend at the Polk County Fairgrounds, 520 S. Pacific Highway, Rickreall.
The sale runs from 9 a.m. to 4 p.m. on Friday and Saturday.
The sale will feature more than 70 varieties of tomatoes, 39 different peppers, more than 800 perennial plants and more.

For more information: Polk County Master Gardeners, 503-623-8395.
Workshop for horse owners Saturday
The 2016 Horse Owner's Workshop is set for Saturday from 1 to 5 p.m. at The Barn at Mountain Springs Farm, 7611 Crowley Road, Rickreall.
Doors open at 12:30 p.m.
Topics include saddle fitting, building a relationship with your horse and taking the mystery out of body condition scoring.
There is no cost to attend. Pre-registration is required: 503-831-1222.
Friends book sale is Friday, Saturday
The Friends of Monmouth Library spring book sale is scheduled for Friday and Saturday at the meeting room of the Monmouth Public Library, 168 Ecols St. S.
The event begins with a member's only sale from noon to 2 p.m. on Friday. Nonmembers may join at the door. The sale will be open to the public from 2 to 6 p.m. and again on Saturday from 9 a.m. to 3 p.m.
Money raised during the event provides summer reading programs and materials, special programs for children and adults, the purchasing of DVDs and some newspaper subscriptions.
For more information: 503-838-1932.
Dallas Alliance to host talent show

The youth of Dallas Alliance Church, 775 E. Ellendale Ave., Dallas, will host a youth talent showcase and silent auction on Saturday at 6 p.m. The event is free and open to the public.
A baked potato bar and salad dinner will be served. Donations will be accepted at the door.
Money raised during the event will go toward helping church youth attend LIFE 2016, where they will participate in an outreach program that will benefit Kansas City.
Silent auction items include artwork, yardwork and painting services.

The youth will provide entertainment in the form of skits and music. A live dessert auction will end the evening.
Reservations can be made at 503-623-2265.

Women's military group meets Tues
The Willamette Valley Women's Military League will hold its meeting at Walery's Pizza, 1555 Edgewater Street NW, West Salem on Tuesday.
The meeting begins at 11 a.m. with social time. A no-host pizza buffet will be available at noon. Col. Morse and distinguished JROTC cadets from North Salem High School will speak.
For more information: Nelda Allegar, 503-831-02983.
RFL Mother's Day tea event Saturday
Relay for Life will host Mother's Day tea on Saturday from 1 to 3 p.m. at Corner Stone Church, 4395 Independence Highway, Independence.
Cost is $5 per person.
A large number of teas and scones will be available to try.
Those who attend are invited to bring your wedding dress, no matter what shape it is in. Prizes will be awarded for oldest wedding dress, ladies who can still wear their dress and for bringing the most people.
For more information: Tami Bookey-Kuhlmann, 503-507-0120.
MI Chamber to host May forum
The Monmouth-Independence Chamber of Commerce will hold its May forum on May 11 from noon to 1 p.m. The forum, held at the Independence Public Library, 175 Monmouth St., will feature a 2016 state legislative session recap and House District 20 update.
State Rep. Paul Evans will speak.
A boxed lunch from Crush Wine Bar is available for $11 and includes a wrap, chips, dessert and bottled water.
To register go to: www.micc.or.org.
Monmouth Garden Club to sell plants

The Monmouth Garden Club will hold its annual plant sale Saturday from 9 to 2 p.m. at the Monmouth Public Library, 168 Ecols Street S. Landscape perennials, trees, shrubs, bulbs, annuals, vegetable plants, herbs and house plants will be available to raise funds for community beautification projects. Members will be in attendance to answer plant and gardening questions.
A free children's planting table will also be available.
For more information: 503-385-3385.
Candidates' forum set for Thursday
The Public Policy Committee of the Dallas Area Chamber of Commerce will hold a candidate's forum Thursday from 6 to 7:30 p.m. The forum will take place at the Dallas Civic Center, 187 SE Court St. There is no cost to attend.
The following candidates have been invited: House District 23 — Mike Nearman and Beth Jones; Polk County Commissioner Position 1 — Jennifer Wheeler and Terence Taylor; Ballot Measure 27-119 — Pete Christensen (in favor) and Jim Williams (opposed).
Bob Brannigan will serve as moderator.
Dallas resident receives award
Dallas resident Gary Conner received the Shingo Prize in a ceremony in Washington, D.C., on April 26.
Shigeo Shingo helped turn around Japanese manufacturing after World War II and the Shingo Institute holds an international conference each year bearing his name.
The Shingo Prize is awarded to companies deemed exemplary. A limited number of authors are also recognized for contributions made to the "body of knowledge."
Conner received the research award for his text, "Lean Epiphanies" — a collection of inspirational stories from his 25 years traveling the United States as a business consultant. Conner currently works with the Oregon Manufacturers Extension Partnership.
More like this story