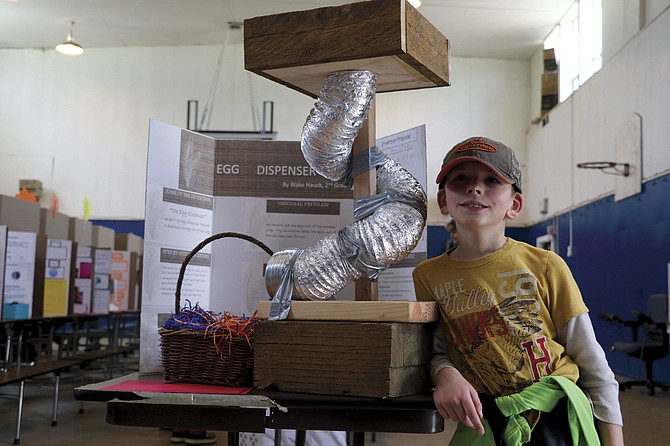 PHILOMATH— Kings Valley second-grader Blake Hauck stood proudly in the Kings Valley Charter School gym on Thursday afternoon, ready to explain how his invention worked to anyone who asked.
His project, after all, wasn't just for fun.
It was an invention born from necessity.
"I was in my car thinking of uses for something," Blake said. "Then, I thought of something. It's hard for me to lift the chicken coup and get the eggs."
And thus, the Egg Dispenser was born.
The contraption featured a spot for chickens to lay their eggs, which then roll down through q duct into a basket where the eggs will fall in harmlessly.
"It's easier for me to get the eggs now," Blake beams.
The project was one of many at Kings Valley Charter School's Invention Convention on Thursday.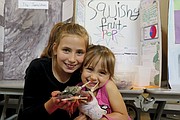 The items ranged from the tasty (squishy fruit pops) to the practical (mobile desk) to ones like the Goobsoo, which addressed the timeless problem of boredom.
Of course, while Kings Valley's inventors were hard at work, they were learning more than they realized.
Christian Petrovich, father of Cedric Petrovich, the inventor of the Goobsoo, saw his son fully embrace the inventor's process.
"It was really great because he came up with this idea, which was neat to see," Petrovich said. "I'd ask him questions so he could figure out how to make it happen and put things together. It was really super fun."
While Kings Valley's students put their minds to work to solve some of the world's problems, the hope from staff and parents is that it may inspire some to one day find major breakthroughs.
"Getting kids to create solutions to problems or making a product better is a great start in developing future scientists and inventors," Kings Valley director Jamon Ellingson said.
One of those future inventors could be first-grader Hailey Eckhold, the mastermind behind Pillow with a Pocket, something so simple, but aims to fix a problem everyone can relate to.
"It's so when you're in bed you don't lose small items," Hailey said.
Each project had a problem it tried to address. Inventors often worked through a number of iterations before they got their inventions just right.
While we'll have to wait and see if Thursday inspired the next Steve Jobs, the Invention Convention was already a success in teaching kids to not be afraid to put their imagination to use.
"I think the best thing that kids learned is to start with an idea and then try many different prototypes until they get the best one," Ellingson said.