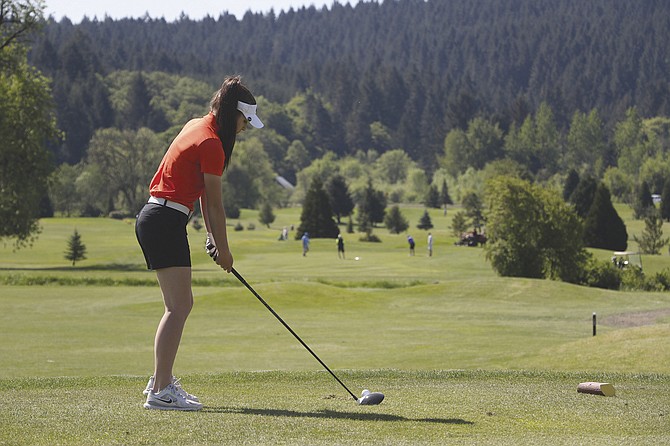 DALLAS — Dallas junior Kailee Curtis has established herself as one of the area's — and state's — best golfers.
Curtis finished in a tie for third at the Special District 1 regional tournament last Tuesday and Wednesday at Quail Valley in Banks, earning a return trip to the state championships.
"It's such a big relief and an honor," Curtis said. "I'm the first girl from our school to ever go. It's such a big honor and one of my proudest moments for myself."
As Curtis developed on the course, it's been her growth in letting her mistakes go that has been the difference.
"I've gotten more mentally strong," Curtis said. "In basketball, if you make a mistake you have a split second and then you go back on defense and recover. In golf, you're thinking about (a mistake) for the next four minutes until your next shot and you're out on the course for four hours. I've learned to shake those mistakes off."
Those mistakes, whether hitting into a bunker, out of bounds or into the water or missing a makeable putt are what defines a player, Curtis said.
"We have those humbling moments of going into all the hazards and learning to play smarter," Curtis said. "There's always things you learn from every round. That's what I told our new girls. You're going to make a ton of mistakes. There's a lot of information I learned from making mistakes."
Curtis finished tied for 26th at state in 2015. She said she hopes to place in the top 15 this year.
"(I'll work on) my short game," Curtis said. "Chipping is where I lost a lot of strokes during the last tournament."
More importantly, she wants to take in the experience.
"I just want to beat myself, have fun with it and stay calm," Curtis said. "The tournament is just dead quiet and it feels intimidating at first. I want to find the peace in that and relax."
What will help is a surprising amount of encouragement from the players she'll be competing against.
"Everyone is so nice," Curtis said. "It's more of a feeling of I want us all to do well, but I want myself to do a little bit better. It's not that I want them to shank it into a hazard. I want to do my best to beat them."
As Curtis attempts to best her performance last year, she'll also be doing what she can to take in a special moment.
"I love being out there," Curtis said. "It's probably my favorite feeling. When they say in school to go to your happy place, that's definitely mine — spending a morning out on the course."