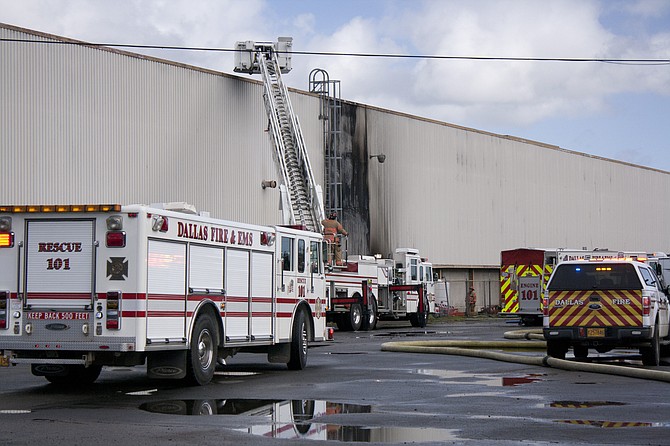 DALLAS — A master plan recently completed on Dallas Fire and Southwest Polk Rural Fire Protection District reveals that response times to fires for both agencies are far slower than established standards.
For Dallas, the response time to a fire is within 18 minutes, seven seconds, 90 percent of the time. For Southwest, it's within 24:14, 90 percent of the time.
In 2015, Dallas responded to 36 total fires, including grass and wildland fires, while Southwest took 49 fire calls. Dallas and Southwest Chief Fred Hertel said that in the last year, three people have died in fires in Dallas.
The target response time is about seven minutes on a "priority structure fire" and 14 minutes for a medium risk structure fire, said Joe Parrott, a consultant with Emergency Servicing Consulting International, which completed the joint plan.
Dallas and Southwest fire departments have worked together under a contract for decades. While Southwest has its own board, Dallas's administrative team oversees both operations.
In addition to response times, the report pointed to financial and staffing issues for both agencies.
Parrott said the response times illustrate the challenge facing departments that depend almost completely on volunteers, which both agencies do.
"That's the reality of a volunteer system," Parrott said. "Folks have got to come from home or work or wherever they are at, to the station and then out on a fire truck. It's just the way it is."



In Dallas, having people available to respond is an issue during the day when most volunteers are at work, many out of town. Coincidentally, that is also the time of the highest call volume, Hertel said.
Performance in the other two pieces of the response puzzle — the time it takes for dispatchers to notify emergency responders and actual travel time to scenes — are on target or just a little off within Dallas.
Southwest has a difficult time reaching some parts of its coverage area in a reasonable time because of the distance from the fire station.
Parrott said the length of "turnout time," how long it takes to get volunteers on a truck, is a concern because of what is called "flashover."
Flashover describes when a fire has been burning long enough to create enough heat and flammable gases that the entire environment combusts, Hertel said.
At that point, the fire is harder to get under control and rescuing someone trapped in that environment may be impossible. Flashover occurs between six to eight minutes.
"Our goal is to try to get water on the fire to begin cooling that environment before flashover occurs," Parrott said. "We know it makes a difference."
Dallas City Manager Ron Foggin said the objective of the report was to find out how the agencies were performing, not to make them look bad.
"Now we know where we stand and now we can set goals and standards to move forward," Foggin said.
Included in the report were a number of recommendations to improve performance. The first for the city and the Southwest board to provide performance goals for each agency.
He said the financial situation for Southwest is getting critical fast and recommended the agency have a comprehensive study done.
Based on his forecasting, the agency would be in the red by 2020 and would need an operating levy to prevent cuts.
"It's time for you to have a conversation with the community," he said. "Really sit down with them and say, OK, this is our reality. This is what is going on. If we don't fix this, we are going to have to start backing away from services."
Parrott also suggested having Dallas and Southwest work more as one agency from an operational standpoint, which would eliminate cost inefficiencies for both departments.
To reduce turnout time in Dallas, he suggested more in-station staffing through on-call volunteers, a resident volunteer program, or additional paid firefighters.
For Southwest, he suggested building another station on Salt Creek Road.
Currently, the only paid staff members are those on the administrative team. In the 2016-17 budget, the department will be able to hire two seasonal firefighters to assist with wildfire season.
Hertel said adding more firefighters will be a decision for the Dallas City Council and will require a significant investment from taxpayers.
"We want the citizens to decide what they want," Hertel said. "If they want better than that, then we have to have a discussion about how we get there."
Foggin said the city has no plans of changing its proposed 2016-17 budget to address concerns raised in the report.
For information about Emergency Medical Services (EMS) performance and recommendations, see the May 18 edition of the I-O.