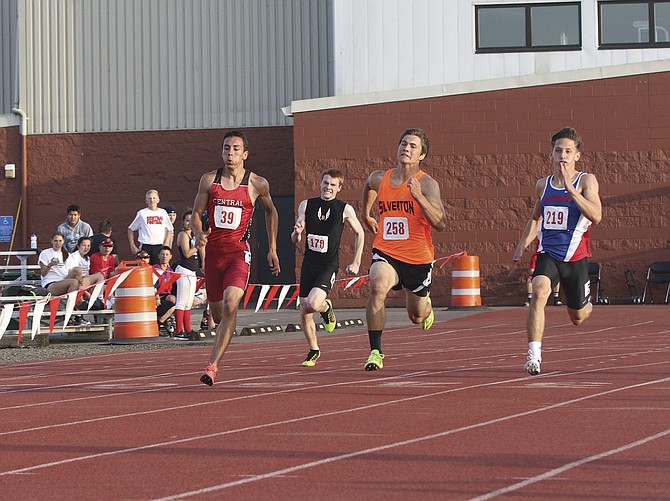 INDEPENDENCE — When Central sophomore Jaxon Hutchinson stepped onto the track prior to the boys 200-meter final on Thursday, he, like his competitors, hoped a trip to the state championship awaited at the finish.
Unlike his competitors, Hutchinson was racing for far more than a district title.

"Two years ago, when I was in eighth grade, I won the 200-meter race at districts and my dad was there for that," Hutchinson said. "A few months ago, my dad passed away. This race was really important for me. This race was for my dad and God upstairs. I wanted to make him proud."
What happened next was nothing short of spectacular.
Hutchinson outdueled Silverton's Austin Haskett to become district champion, finishing in 23.06 seconds — .07 seconds ahead of Haskett.
"That was amazing," Hutchinson said. "All day, I had been dreaming about what I was going to do if I won. I didn't think I actually would. It was a good moment."

That moment was just one of several for the Panthers.

—
Sophomore Bethanie Altamirano always thought this moment would come. Since running a 300-meter race in middle school, she circled the 400 as her race once she got to high school.
"My goal was to go to state and I remember telling myself I was going to break 60 seconds in the 400 before I graduated," Altamirano said.
She achieved both of those goals in a single race becoming district champion in the 400, finishing in 59.61 seconds.
"I ran to my mom and started crying," Altamirano said.
Her mom has been more than a constant supporter, she's been Altamirano's inspiration and helped change her entire outlook on life.
As a freshman, Altamirano was excited to start chasing her goals on the track. But that spring, she received some difficult news. Her mother, who had been battling kidney problems, saw her condition worsen.
"She told me during track season that she needed a kidney transplant," Altamirano said.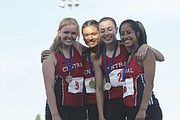 Track faded into the background. Her goals disappeared and although she finished the season, her heart wasn't truly in it.
"I wasn't ready to go to state last year," Altamirano said. "I didn't believe in myself. I was just out of it."

That began to change. Although her mom has had ups and downs, Altamirano learned to find the joy in each moment.
"I started praying more," Altamirano said. "She's been in the hospital so many times, but she's doing OK right now. I've learned to find the positives instead of the negatives. Last year, all I found were the negatives and that just brought me down. This year, I just keep the positive and keep going forward."
That new attitude helped Altamirano become a district champion.
"I felt relief and happiness," she said. "I think about Steve Prefontaine's quote, 'To give anything less than your best is to sacrifice a gift.' I thought I need to go faster. I believe that God can help me do this."
Altamirano was also part of the girls 4 x 100 relay team of Elizabeth Chavez, Alex Alvarez and Reba Hoffman that took first.
They'll be joined at state by the boys 4 x 400 relay team of Isaac Burgett, Joshua Peterson, Juan Rivera and Nick Burgett, which placed second in 3 minutes, 28.52 seconds; Isaac Burgett, who finished second in the 400 in 50.56 seconds; Samuel Cole, who took second in the shot put with a throw of 48 feet, 9 inches; and Peter Mason, who finished second in the long jump with a leap of 20 feet, 9 ¾ inches.
"It means the world to go to state," Mason said. "My sister went to state when she was in high school in track. Our jumping coach has always sent someone to state in long jump or triple jump. This means a lot."
Josh Dickson (300 hurdles), Kyle Miller (javelin), the boys 4 x 100 relay team of Casey Brown, Isaiah Abraham, Jaxon Hutchinson and Nick Burgett and Reba Hoffman (triple jump) earned wild card berths to state.
The 5A state meet begins Friday at Hayward Field in Eugene.
"(We need to) stay humble," Hutchinson said. "There are some great athletes going there. It will be fun to see the competition."