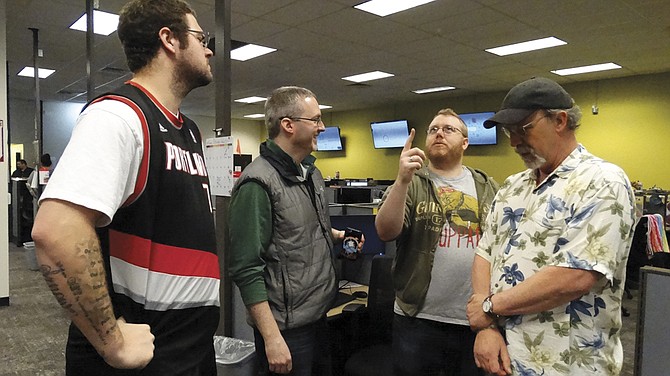 INDEPENDENCE — Potlucks, pirates, races around cones — at FCR, a call center in Independence, it's just another day at the office.
"We try to be fun," said Rich Miller, site director. "We try to be irreverent. We try to be quirky."
The atmosphere at the company is upbeat, with people coming and going, laughing and talking together. The environment is one reason FCR has been voted Best Place to Work by the Oregonian for four years.
The company has been in Independence for about nine months. In that time, it's hired 240 people, Miller said, and is still looking for colleagues to join the staff.
FCR is a call center that serves other companies, and differs from other call centers Miller's worked at.
"You have a lot of interaction with a client on a daily basis," he said. "We don't like to be the 'outsourcer,' we're just a second outcropping of their own internal business."
When businesses grow, so do their customer service needs, Miller said, and that creates more jobs at FCR.
"If we're doing it right, the customer service is also becoming more successful, then the numbers of opportunities for customer support expand," Miller said.
He has worked for FCR for about a year, and for three months as the site director for the Independence location. One thing he likes about the company is its unique vibe.
"I went from handling one thing to handling different programs," Miller said. "In a way, it's their own business within a business, so that variety is very interesting to me."
Also, FCR is active in the communities they are based in, from March of Dimes to blood drives to cleaning up parks.
"A lot of our colleagues know of charities going on, a place that supports pets, or we'll get involved and see what we can do," Miller said.
He said he has enjoyed working in the Independence and Monmouth communities.
"Independence and Monmouth have been super welcoming," Miller said. "What's unique about this is how well Independence and Monmouth work together. When we go to chamber events, you see the mayors working together to better both communities at the same time. It's exciting to see the downtowns revitalized and grow here."
FCR will have a booth at the Discover MI Town event, which is on Saturday.
Meanwhile, the company continues to accept applications — and even will interview walk-ins, Miller said.
For more information: gofcr.com. For more on Discover MI Town: www.micc-or.org.