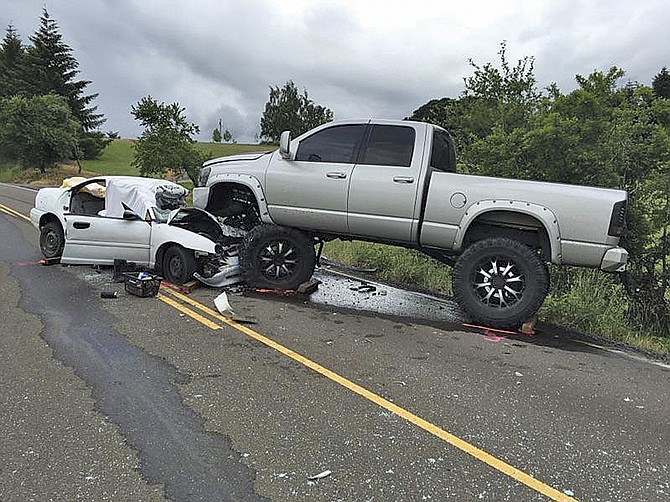 Senior Center to hold Spring Fling

Monmouth Senior Center, 180 Warren St. S, will hold a Spring Fling Tuesday from 4 to 6 p.m.
Janie Martin, a local Big Bands performer, will perform.
Tickets cost $5 each. Food will be available.
For more information: Sue Teal, 503-838-5678.
PC Museum holds Spring Tea
It's time to set aside the cares of the world for a new tradition: Tea at the Polk County Museum. The annual, formal tea will be held on Saturday, at 1:30 p.m.
Tea, savory tea sandwiches, scones and sweets will be served. No program will be presented, but displays on the history of tea and table manners will be featured at the entrance.

The beauty of a formal tea offers manners (i.e. predictable and acceptable behavior to friends and newcomers), beautiful tablespaces, tasty finger-food and fragrant tea.
For more information: 503-623-6251.
Discover MI Town set for Saturday
Discover MI Town will give people a chance to eat, drink and shop in downtown Independence and Monmouth on Saturday from noon to 5 p.m. Check-in will be at the Monmouth-Independence Family YMCA, 301 S. Main Street, Independence.
Shuttle service will be available with drop off/pick up locations at Riverview and Main Street parks.
Tickets for the event cost $10 if ordered by Friday and $15 the day of the event.
Tickets are available online at www.micc-or.org or at participating businesses.
Flaming offers diabetes program
A free six-week workshop focused on practical skills for living with diabetes will be offered Thursday through June 22 from 1 to 3:30 p.m.
Classes will be held each Thursday at the Flaming Medical Center, 1000 SE Uglow St., Dallas.
The Living Well Program will teach participants skills including working with health care teams, managing symptoms and medications, learning how to be active and eat well and more.
Class materials include a course book and CD, and are provided free of charge.
To register or for more information: WVP Healthy Authority, 503-587-5129. On-site registration is also available.
M-I Clean Up Day on Saturday
Monmouth-Independence will hold a clean-up day Saturday from 9 a.m. to 2 p.m.
The refuse collection site will be located at Riverview Park in downtown Independence. Cost is $10 per load for dropping debris for Monmouth and Independence residents and $12 for Polk County residents.
Items accepted include trash, wood, metals, yard debris, tires, empty propane tanks, appliances and car batteries.
Items not accepted include paint, computers, microwaves, chemicals, household garbage, fuel and televisions.
Independence residents unable to deliver their debris due to physical limitations may contact the Independence Police Department at 503-838-1214 by Friday. Monmouth residents may contact Monmouth Public Works at 503-838-2173 by Friday.
For more information, or to volunteer for the event: 503-838-1214.
WOU author to share from book
Western Oregon professor, fisherman and author Henry Hughes will share excerpts from his latest books, "Bunch of Animals" and "Back Seat with Fish: A Man's Adventures in Angling and Romance," Thursday at 4:30 p.m. at the River Gallery, 184 S. Main St., Independence.
Hughes will also talk about art, life, fishing and humor. Refreshments will be available.
For more information: 503-838-6171.
Dallas Garden Club to hold meeting

Dallas Garden Club will hold its monthly meeting Monday at 6:30 p.m. The meeting will be held in the Builders Room at the Evangelical Bible Church, 1175 SE Howe St., (enter through the breezeway on the Miller Street side).
Darlene Gowen, an Oregon State University Master Gardner from Independence, will speak on preparing, planting and raising a successful vegetable garden.
Club membership is open to men and women. Visitors are always welcome.
For more information: Mike Stewart, 503-510-3293.
Author to visit Kunke Art Studio
Jeri Houle, the author of "Jeri Houle: My Story of Courage and Hope Fighting Blood Cancer," will hold a book signing at Tom Kunke Art Studio, 357 Main St., in Dallas.
The book follows Houle's life from diagnosis to remission.
Houle is a graduate of Dallas High School. The signing will be from 4:30 to 7 p.m. on Thursday.
For more information: 971-409-7686.
Grace Baptist to hold chili cook-off
Grace Baptist Church, 1855 E. Ellendale Ave., Dallas, will host a chili cook-off, mystery play and dessert auction Friday at 6 p.m.
Chefs will compete for Best Chili, Hottest Chili and the people's choice award.
Dinner will include the chili of your choice, cornbread and salad.
While dining, folks can enjoy a play called, "The Door."
After dinner, guests can bid on desserts. All proceeds will support church efforts.
A suggested $5 donation is requested.
For more information: Pastor Russ Hilsinger, 503-623-4858.
Dallas Library hosts coloring night
Thursday Dallas Public Library is holding adult coloring night from 5 to 7 p.m. with designs created by circulation aide David Wales.
The library will provide coloring sheets and materials and refreshments to complement the relaxing activity and conversation.
Participants will be surveyed to see if the monthly event should continue through the summer or take a break in July and August and resume in the fall.
For more information: 503-623-2633.
More like this story