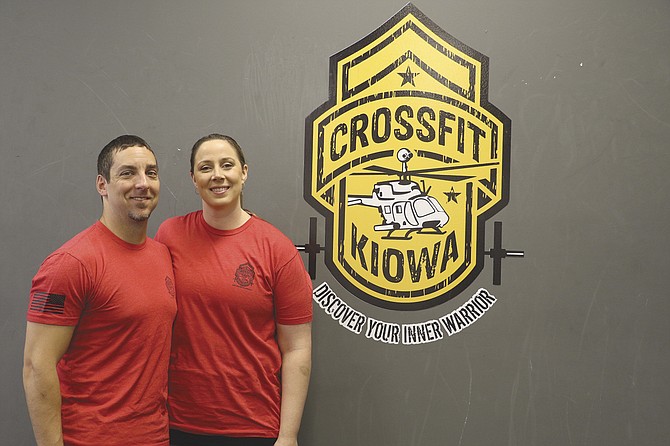 INDEPENDENCE — There's a saying common among CrossFit members: Come for the fitness, stay for the community.
Buffy and Shane Rider, owners of CrossFit Kiowa, live that to the fullest.
The Riders foray into CrossFit began in 2012. Shane had just decided to take a new job that allowed him to stay home with his family in Portland and was looking for an outlet to stay in shape.
Buffy suggested CrossFit.
They quickly saw that this was no ordinary workout.
"In CrossFit you're getting that personal training and a good workout. You have someone who isn't hovering over you, but they're there to help you and get you going in the right direction," Shane said.
Memorial Day Murph
• CrossFit Kiowa, 150 C St., Independence, will host Memorial Day Murph, a commemorative workout in honor of Lt. Michael Murphy on Monday from 9 a.m. to 2 p.m.
• The workout includes a one-mile run, 100 pullups, 200 pushups, 300 air squats and ending with a one-mile run. If you have a weight vest, wear it.
• There is a $5 suggested donation. A 50/50 raffle, silent auction, wall of wine/beer and food available for purchase will also be offered.
• All proceeds will go to the Returning Veterans Project, a local nonprofit that provides free and confidential counseling and other health care services for post 9/11 veterans.
• For more information: CFKiowa@hotmail.com.
More important was the sense of community that they developed.
"The camaraderie is amazing," Shane said. "You work out at times and you create friendships and relationships. What starts here extends out to your personal life."
The two talked for years about opening their own place. In 2015, they would get their chance. The couple came to Polk County and, in November of last year, opened CrossFit Kiowa.
"You can throw all these big words at people, but it's just strength and conditioning," Shane said.
Like the saying that partially inspired them, CrossFit Kiowa is about more than getting into shape.
Giving back to the community isn't a luxury for the Riders. It's a necessity.
The pair formed a committee — Kiowa Cares — to discuss ways the gym and its members could become involved.
The group has volunteered at numerous events from laying down trails of wood chips for Horse Adaptive Riding and Therapy to hosting a table for the Monmouth-Independence Food Group at the Farmers Market.
On Monday, the gym will host a Memorial Day Murph Workout of the Day and fundraiser.
The event honors Lt. Michael Murphy who was killed in action during the war in Afghanistan in 2005. He was awarded the Medal of Honor, the Silver Star Medal and the Purple Heart. CrossFit gyms across the country honor him through a special workout.
The workout includes a one-mile run, 100 pullups, 200 pushups, 300 air squats and ending with a mile run. The workout begins at 9 a.m.
If you don't feel up for the workout, you can still participate. A raffle and silent auction will follow as well as food and other activities for kids.
All proceeds from the event will go toward the Returning Veterans Project.
"They provide free and confidential services to post 9/11 veterans," Buffy said. "Anything from mental health counseling to things like massages and acupuncture. They provide different gateways to get some relief from the trauma they may have from when they served."
The event represents the core of what the Riders believe makes CrossFit Kiowa so special.
The Riders want to make their gym more than a place to go get in a good workout. They want to be a part of their community and giving back any way they can.
"I don't think it's worth doing if there's not an opportunity to give back," Shane said. "CrossFit itself is about helping others. If that's going to be the foundation of our business, if we weren't able to put ourselves in a position to do that, it wouldn't be worth it for us. We want to do this for the right reasons."