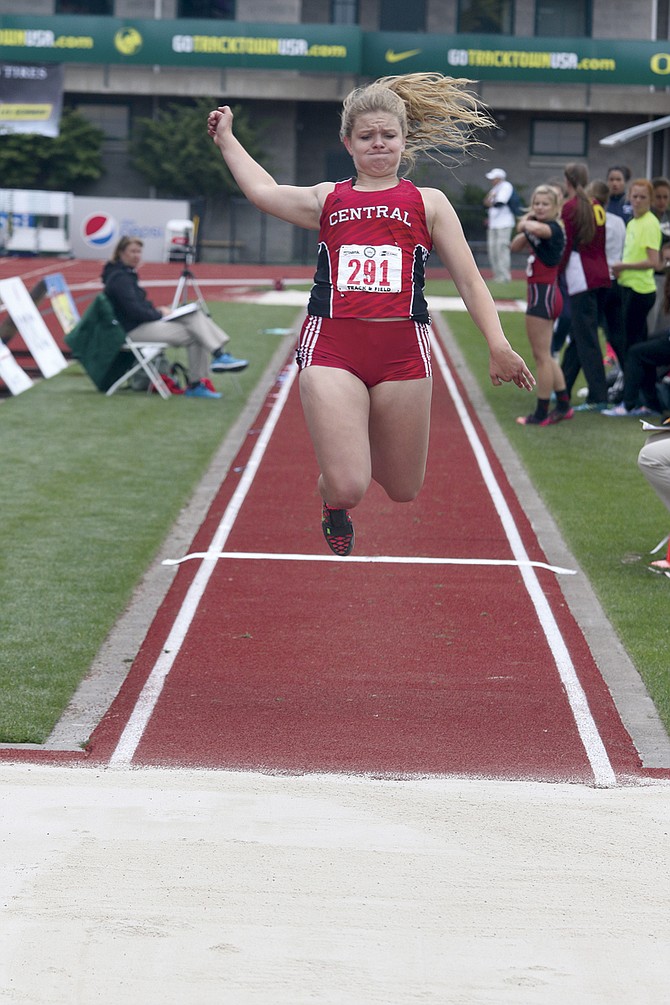 EUGENE — The deafening silence in the moments before the starting gun fires. The roar of the crowd as runners race toward the finish or jumpers unleash a gigantic leap.
In the world of track and field, there's nothing quite like state at Hayward Field.
Central senior Reba Hoffman soaked in the moment for the last time. After placing fifth in the girls triple jump at the OSAA 5A state track and field championships on Saturday, Hoffman reflected on her final meet as a Central Panther.
"It's awesome," Hoffman said. "… I'm just thankful for the coaches and how much they put into me over the last four years."
Hoffman is no stranger to making the state meet — earning a trip to Eugene in three of her four seasons.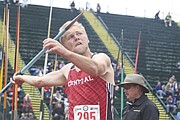 "Freshman year, I got eighth in the long jump and I was pissed," Hoffman said. "I expected myself to do better. I wanted to get my season PR and I didn't even come close. My sophomore year I didn't make it to finals, and my junior year I didn't even make it to state."
Missing state entirely changed Hoffman's perspective in a big way.

"God was showing me it's time to finally appreciate coming to this track," she said.
After an up and down career, the senior was thankful for one last opportunity to experience state — the right way.
"It's an unbelievable meet," Hoffman said. "I just enjoyed it and soaked it in. I wouldn't have appreciated this if I didn't have to go through all the hard stuff. Of course it wasn't fun, but it's paying off now."
Sophomore Bethanie Altamirano was the Panthers' top finisher, placing third in the girls 400-meter run.
Mid-race, Altamirano felt pain in her right leg, but with her teammates, coaches and, most importantly, her mom in the stands cheering her on, she wasn't about to let an injury stop her.
"I just thought I have to keep pushing myself," Altamirano said. "I need to do this for everyone."
Altamirano and Hoffman were also part of the girls 4 x 100 relay team, along with Elizabeth Chavez and Alex Alvarez, that placed fourth with a time of 49.77 seconds.
"It was insane," Chavez said. "It's such a great feeling to be out there. It was incredible."
The relay team mixed underclassmen — Chavez is a freshman and Altamirano a sophomore — and experience, Hoffman and Alvarez are seniors. That combo led to successful results throughout the season.
"This was a dream come true," Hoffman said. "I love the 4 x 100 and I wanted a fast team for a long time. We've had decent teams, but we weren't super competitive. That happened this year. In a sport so based on personal achievement, I love having that camaraderie. You're not feeling the stress all by yourself."
The chance to get on the podium put an amazing end to their season.
"I'm glad my last track meet was with them," Alvarez said.
The boys also found success with its relay teams. The 4 x 400 relay team of Isaac Burgett, Joshua Peterson, Juan Rivera and Nick Burgett finished fifth in 3:27.83, while the 4 x 100 team of Casey Brown, Isaiah Abraham, Jaxon Hutchinson and Nick Burgett took seventh in 43.55 seconds.
"It's a whole different feeling at state," Brown said. "It's not like any other meet."
Stepping onto the track in Eugene for the first time was an awe-inspiring moment, but not one that the Panthers would let overwhelm them.
"I was pretty nervous, but once you get the baton, you don't think about anything," Nick Burgett said. "You just run."
For runners like Abraham, state provided a unique challenge.
"It was my first year doing track, so it was a pretty cool experience to get here," Abraham said.
Hutchinson, who finished 10th in the prelims of the 200, was out to make his dad, who recently passed away, proud. Despite the thousands of fans in attendance, he, along with his teammates, was dialed in on running as fast as possible.
"One reason why I love track is right before the gun, I'm not thinking about anything," Hutchinson said. "It's the one time my head is empty and is peaceful."
Samuel Cole took seventh in the shot put with a throw of 49 feet, 5 ¼ inches. Kyle Miller placed ninth in the javelin (168-8) and Peter Mason took 12th in the long jump (20-8 ¾). Alec Barba scratched in the high jump. Josh Dickson finished 10th in the prelims of the 300 hurdles.