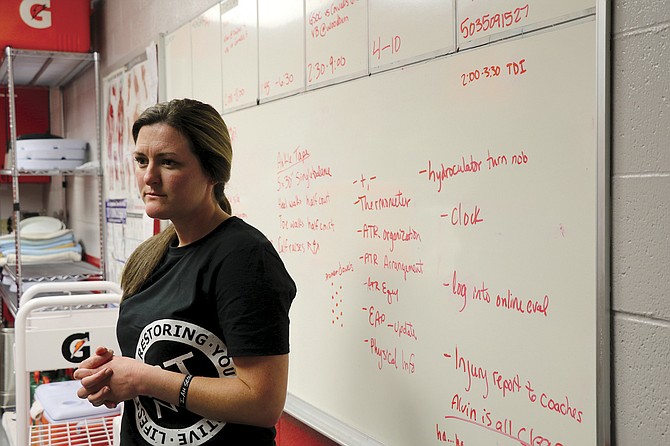 INDEPENDENCE — As a high school student, Katie Anderson loved going to school sporting events.
Unlike most, her greatest interest didn't focus on what was happening during the game.
"I would always go to the football games to see what was going on," Anderson said. "I would see athletic trainers run onto the field to help the player, or they would treat something with pregame taping and preventative things. It really intrigued me."
That was the beginning of Anderson's path toward sports medicine — one that has led her to become Central's new athletic trainer.
—
Anderson's interest in sports medicine began her freshman year in high school, but she never thought it would lead anywhere.
"I didn't realize I could make a career out of it," Anderson said. "My head athletic trainer in high school told me he went to Central Washington, and I could go to a university and get a degree in athletic training."
Anderson graduated from George Fox University in 2011, and worked at Corban University for five years and Blanchet Catholic High School for a month prior to coming to Central.
"I wouldn't say this was my dream seven years ago," Anderson said. "Now in the past year, for sure. I plan to be at Central for a while."
Working with high school athletes provides a new challenge for Anderson — one that can be fun and exciting to conquer.
"I'm super grateful I can work with this age group," she said. "They are fun, and they press boundaries to see where you are at."
Anderson replaces longtime trainer Jeremy Ainsworth, who now works with Oregon State's baseball team. Though she replaces an athletic trainer who coaches and players loved, stepping into his role has been as smooth as possible, she said.
"There is great support from (athletic director) Shane Hedrick," Anderson said. "All of the coaches are encouraging and supportive. There's an appreciation for athletic training at this school."
Anderson, who officially joined Central in early October, has been working on building relationships with students — gaining their trust and learning how best to communicate with them.
"Molding young minds is something I desire to do," Anderson said. "I'm not here to take them out. I'm here to get them back in. I have to be able to talk to them and let them know there's more than just tennis or football. ... You might want to have a family one day and want to be able to run with your kids or coach their soccer team. Being positive now in the education process can improve their future life."
She is also beginning to establish her own way of doing things and getting her student athletes on board.
"It takes time to make something my own — some things won't change, but I'm not going to do everything the exact same way they've been done before," Anderson said. "Just because it's new, doesn't mean it can't be good. It's just different. It can be great."
Perhaps the most important role Anderson sees for herself as is as an educator. And it's something she hopes to fully embrace at Central.

"I would love to, if possible, to mold into more of a teacher like my athletic trainer was in high school," Anderson said. "Education is the general reason we do what we do."