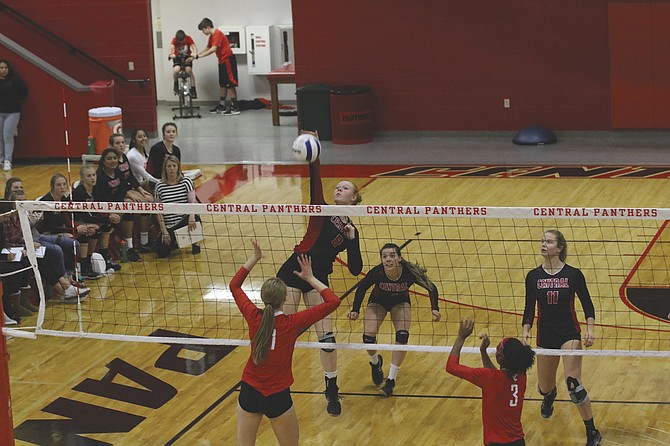 MILWAUKIE — Central's volleyball team fell in the first round of the state playoffs to La Salle 25-16, 25-13, 25-18 on Saturday.
Krista Omlid had 12 kills to lead the Panthers, while Sydney Nash added 12 assists. Jori Kerr recorded 13 digs.
"La Salle is a great team and unfortunately, we didn't play our best match," coach Claudine Mendazona said. "We got called on a lot of sets which disrupted any rhythm we had going or tried to get going, and La Salle did a great job with their ball placement."
The Panthers advanced to the first round by defeating North Eugene 22-25, 25-18, 25-12, 25-20 in the play-in round on Oct. 25.
Omlid had 12 kills and four blocks to lead the Panthers.
Alex Dowdell recorded 10 kills and 16 digs. Erin Cole had three aces and 13 assists, and Nash had 17 assists and nine digs for Central.
"Overall we played well against North Eugene," Mendazona said. "We had a slow start, but our game plan was to put up a steady double block against their tough outside hitters and try to keep them out of system offensively."
Central dealt with numerous injuries throughout its 2016 campaign, but Mendazona said the team came together to overcome adversity.
"One thing we struggled with early was communication and giving positive feedback on the court," Mendazona said. "We had some great leadership by Jori Kerr and Alex Dowdell. They were always great examples of a team player, and when we struggled, you could count on them to keep encouraging the team and trying to keep the focus at hand."
BOYS XC TAKES FOURTH: Central's boys cross-country team placed fourth at the Mid-Willamette Conference district championships in Lebanon on Oct. 26. The girls finished sixth.
Matt Raines finished 11th in 17 minutes, 5.8 seconds to lead the boys, followed by Zach Meyer (15th, 17:24.1) and Jaydon Aydelotte (18th, 17:27.0).
Bailie Hartford led the girls with a 14th-place finish in 20:45.6. Diana Nye took 18th in 21:27.1 and Beatriz Trujillo finished 22nd in 21:57.1.
More like this story