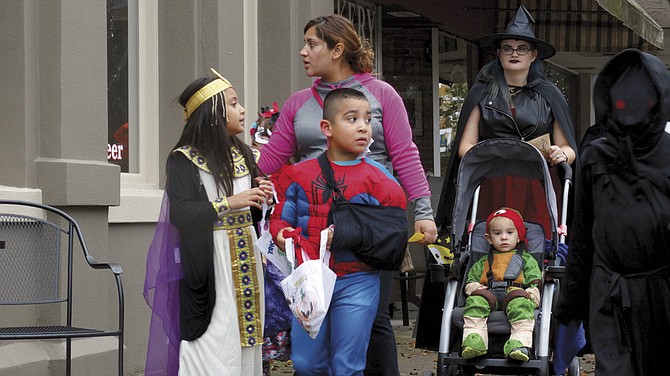 Hospital book sale set for Friday
The West Valley Hospital Volunteers' Books R Fun fundraiser sale will take place Friday from 9 a.m. to 3 p.m. at Salem Health West Valley, 525 SE Washington St., Dallas. The sale will be in the main conference room immediately inside the front door.
Books, gifts and toys will be available at 30 to 70 percent off retail prices.
Proceeds from the fundraiser go toward the scholarship fund, benefitting Polk County high school seniors wishing to pursue a medical related field.
Monmouth leaf pickup scheduled
The city of Monmouth will conduct residential leaf pickups Nov. 11-13, 18-20, Dec. 2-4, 16-18 and 23-26.
The program is for Monmouth residents whose property generates more leaves than Brandt's yard debris recycling cart can handle.
Leaves must be placed on city streets during pickup dates.
Leave a minimum of one foot between the curb and the leaf pile. Leaves should not block the flow of storm water along the curb, cover storm catch basins or encroach on traffic lanes.
Park vehicles at least five feet away from leaf piles to allow equipment room to safely pick up leaves.
No grass trimmings, limbs or other debris allowed.
After Dec. 26, property owners are responsible for disposal of leaves.
If a landscape firm is unable to place leaves out during this window of time, they are required to collect and haul away leaves.
Failure to comply with dates and restrictions will result in residents required to put leaves back on your property until the next pickup period.
Clown to perform at Calmlee's
Children's entertainer Cooki the Clown will perform at Calmlee's, 147 SW Court St., Dallas, on Saturday from 10:30 to 11:30 a.m. to help celebrate the store's one year anniversary.
Cooki will read the book "Pete the Cat" and "The First Thanksgiving." She will also perform illusions and give out free balloon animals.
Free refreshments will also be available from 10 a.m. to 4 p.m.
For more information: 503-623-3025.
MVCA to host Vets chapel, breakfast
Mid-Valley Christian Academy invites all veterans to its Veterans Day Chapel and complimentary breakfast on Nov. 9 from 8:15 to 10 a.m. at 1463 16th St., N., Monmouth.
Students wish to thank veterans for their service and to serve breakfast to veterans and their guests.
For more information: 503-838-2818.

MI Chamber to host events
The Monmouth-Independence Chamber of Commerce will hold a pair of events. The first is Chamber 101: Membership Value, Thursday from noon to 1 p.m. and 5:30 to 6:30 p.m. at the computer lab at Henry Hill Education Support Center, 750 S. Fifth St., Independence.
The free session will provide veteran, new and prospective members an overview of the benefits of chamber membership.
The chamber will also hold its November forum and annual meeting on Nov. 9 at Hawk Hall at Henry Hill Education Support Center.
Elections for three new board of directors will be conducted. An overview of 2016 programs and services and a preview of 2017 will be given. Bring a food donation for the Ella Curran Food Bank and be entered to win a prize.
Boxed lunches from Critelli Sweets are available for purchase with online registration. Forums are open to members, guests and friends.
For more information or to register for either event: www.micc-or.org.
EHWC celebrates 30th anniversary
Eola Hills Wine Cellars, 501 S. Pacific Highway, Rickreall, will celebrate its 30th anniversary on Saturday from 10 a.m. to 6 p.m.
Complimentary wine tastings, live music and local culinary bites will be available. Specials on wines will also be offered.
There is no cost to attend.
For more information: www.eolahillswinery.com.
Willamette Valley Symphony performs
Willamette Valley Symphony will give a pair of performances on Saturday and Sunday. On Saturday, the symphony will play at First United Methodist Church, 1115 28th Ave. SW, Albany at 7 p.m.
On Sunday, the symphony will perform at Ashbook Independence School, 4045 Research Way, Corvallis, at 4 p.m. A pre-concert talk takes place on both days a half hour before the concert begins.
Tickets cost $18 for adults, $15 for seniors and students. Kids 12 and younger are free.
Tickets are available online at www.willamettevalleysymphony.org.
The program includes Beethoven's "Fidelio Overture," Brahms' "Double Concerto" and Sibelius' "Symphony No. 1."