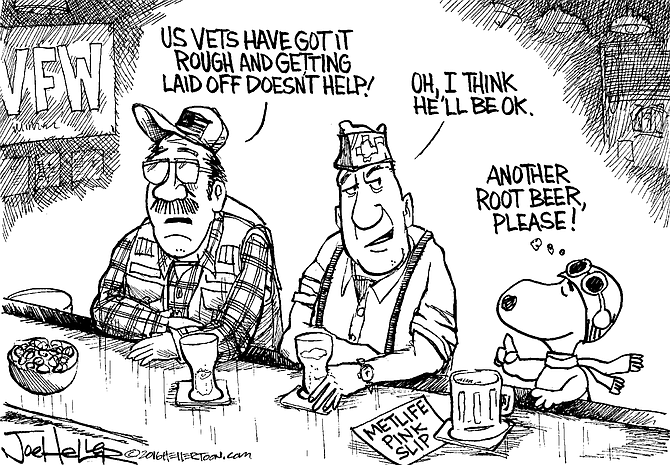 Garton has what it takes to lead
I have known Mark Garton for many years and I believe he has what it takes to be elected as our Polk County sheriff. He has worked from the ground up in the Polk County Sheriff's Office, earning his way to his current position.
Mark has followed through with promises made during the levy campaign (24-hour patrols and POINT). Mark has also created the Mobile Crisis team to address mental illness in our community, which is needed.



Mark's strong family values and sense of community makes him the right person to be our sheriff.
Judy Whitlow
Amity
Help feed the hungry this holiday
Thanksgiving is fast approaching.
Last year the Dallas Food Bank provided more than 100 Thanksgiving food boxes for hungry families in our community. This was made possible with the help of generous and caring individuals, churches, and businesses of Dallas.
These boxes allowed hungry families to partake in a traditional Thanksgiving meal.
This year our goal is to provide at least 100 families with holiday boxes.
We are asking for donations of green beans, packaged stuffing, cranberry sauce, and store-bought pies to fill the boxes.
Donations to help purchase food items would also be helpful.
Food items can be bought to the food bank at 322 Main St., No. 180, Monday through Friday from 8:30 to 11:30 a.m., or dropped off at the Dallas library.
If you have any questions, please call us at 503-623-3578.
Thank you for your help.
Mona Ordonez
Dallas
Thompson finds ways to help
I worked with Jim Thompson over 30 years. There are huge differences between Jim and his opponent.
Jim seeks people to help him develop projects and ideas, plus accepts input from any source.
His opponent sees his role as blocking everything.
Jim spent considerable time helping constituents.
His opponent doesn't, so constituents go to Sen. Boquist, overloading his workday. Most members of the Oregon Legislature appreciate Jim's wide range of expertise and seek out his help.
His opponent has only one answer, "No." I know Jim's work. You should vote Jim Thompson and get results for Oregon.
Jane Brown
Dallas
Thompson would be asset to HD 23
I met Jim Thompson 10 years ago when I was the guest speaker at a meeting. I found him engaging and well-informed.
We talked about many issues and agreed on the need for more civic education, and for people to become more active in their communities.
I am glad that Jim is running for another term in the Oregon House.
He is a dedicated public servant, concerned about the greater good, and a tremendous asset for Polk County.
I intend to vote for him and encourage others to do the same.
Ed Dover
Professor
Political Science
Western Oregon University
Jazz Fest success thanks to partners
St. Thomas Episcopal Church wishes to express appreciation to the many sponsors of the Jazz Festival. $6,000 was raised and will be equally distributed to three local nonprofit organizations: CASA of Polk County, Sable House and the Polk Community Medical Clinic.
The Wells Fargo Foundation donated $1,000 to help us reach our goal.
Other community partners who sponsored the event were Home Comfort, Citizens Bank, Capitol West Valley, St. Urbans Cellars, Brissenden and Reynolds Attorneys at Law, the Itemizer-Observer and KathKen Vineyard who provided the venue for the event.
We also thank the numerous businesses who were donors to our silent auction.
Thanks to all who attended making the Jazz Festival successful.
Save Sept. 10, 2017, for the next St. Thomas Jazz Fest.
Janice Wolcott
Dallas
Yes to Falls City's bond; yes to kids
We support the bond measure to build a gym/cafeteria for Falls City students.
There is currently no gym at the elementary/middle school for recess or PE, plus classroom space and an adequate cafeteria are critical needs.
This is a $2 million bond with a matching state grant. The grant will be spent no matter how we vote, either in our community, or for students elsewhere.
A yes vote has a $2 million impact, not $4 million. Let's take this opportunity to build a $4 million facility for half that price.
Vote yes to support the children of Falls City.
Steve and Kay Dixon
Falls City
Nearman stands tall for principles
When asked why he switched parties, Jim Thompson stated, "Republican party has gone so far to the right, vindictive. …"
Mike Nearman stands for the principles which he was elected by the people to stand for — sanctity of life, marriage, and small government.
We are not interested in reaching across the aisle if it sacrifices our values.
Nearman is a representative who will hold firm on our positions.
We can trust that Nearman will stand strong for the people he represents on serious issues that shape our community, our families, and our businesses. That is why he will get our vote.
Jon and Kris Golly
Dallas
Thompson ideal for people of HD 23
For 30 years, I was prevented from building a house on my farm due to land use laws.
I was out of options, but Jim Thompson found something he could do.
He passed a bill unanimously to change outdated land use laws, and helped me and other land users utilize our farms.
Jim embodies the ideal representative.
A person who works simultaneously on large state matters, but ensures the people in his district are taken care of and protected.
Jim stands by his constituents, and I will stand by him.
Pat Wildman
Dallas
County lucky with sheriff choices
Not too often do we as voters feel that we have a really good candidate to vote for.
Not this time.
In the race for sheriff, we have two qualified candidates to choose from.
In a way, that makes it harder, but it is so refreshing to see a campaign that has not had negative remarks made by either candidate.
It is nice to feel that whichever candidate is elected, we will have a person that really cares and will do a good job.
Thank you for a clean campaign.
Linda Morris
Dallas
Political ad is misleading
I received a political ad from the "Real Mike Nearman" PAC. It claimed Mike was arrested for a DUII, cited for driving with a suspended license. While these claims are true, the ad is misleading. These violations happened in early 1990s, not in 2014 as the ad implies.
Should we support people who have turned their lives around or tear them down for poor choices made over 20 years ago? Before placing your vote for District 23 representative, think carefully. Do you vote for Mike Nearman who stands true to his values or his opponent who supports tearing people down?
Dana Hatch
Dallas
Bond would give twice as much
When I was a kid, we had it all. Our kids need more than they have now. Bond 27-120 does not cost us $4 million.
We are responsible for $2 million.
The state will match it, if we pass the bond.
It is waiting.
I live on a small, fixed income. The bond will cost $12.84/month for a home valued at $200,000.
So, it is not that much considering it is for education.
Please pass bond 27-120. Our schools cannot afford to start from scratch.
Laura Christensen
Falls City
Bond good for kids, community
Vote yes on Measure 27-120. Keep classes small, feed kids nutritiously and provide a seismically safe building for residents.
For between $6 and $15 per month, you will help keep our small school small.
Elementary class sizes range from 20-30 students each. The district has grown by nearly 25 percent since 2014.
At the elementary, mixed-grade rooms divide teachers' attention among more students.
You will feed local kids nutritious meals for breakfast, lunch, supper and a snack every school day.
We need a functioning kitchen.
Your yes vote provides a safe gathering place in case of a seismic emergency.

Amara Houghtaling
Falls City
Yes on bond for much-needed fixes
Citizens of Falls City: Do you want our school district to plan ahead for a growing student population, state mandates and aging buildings? A yes vote on 27-120 does just that.
Stop putting Band-Aids on the challenges our district faces and plan for the future.
Matching funding is available, and if we don't use it, some other community will be given a very precious gift.
Vote yes on 27-120 to receive money that the entire state of Oregon is gifting to Falls City.
Vote yes to plan for the future of our district and community.
Vote yes for kids.
Roxi Barnhart
Falls City
Watch surroundings behind the wheel
Have you forgotten your driver safety skills?
Your vehicle's backup lights lit up my white (and) reflective jacket, my reflective ankle ribbon, my reflective shoes and my dog's reflective jacket as we stood on the sidewalk watching you barrel out of your driveway.
Did you see me?
Heck no, you didn't even look.
Are you wanting to start your day off with a vehicular accident?
Just a reminder to all of you that fall into this category.
Ann Richmond
Dallas
Invest in next gen, yes on FC bond
I would like to encourage everyone to please vote yes on Falls City School District 27-120.
As a long-time active community member, I believe it is every generation's responsibility to invest in the next generation.
This could be time and/or money.
The state of Oregon has recognized that there is a need in the Falls City School District and has committed to supporting our district with matching funds.
The passing of ballot measure 27-120 will help our school district to provide more opportunities for students in years to come. Thank you.
Bob Young
Falls City
Support bond, keep state dollars
Falls City, please do not pass up this opportunity again.
A no vote gives $2 million to another community.
Do not believe claims that Falls City residents are paying $4 million for this bond.
Two million dollars has already been generated through revenue sources from all over the state.
It is a gift to us from all of Oregon if we agree that our students deserve thriving schools.
Our aging buildings, lack of space, and growing student population require action.
Take action now while we have this $2 million gift at our fingertips.
Yes on 27-120.
Amy Houghtaling
Falls City
Thompson holds line on taxes
It must be election season, because there Mike Nearman goes trying to trick voters on the issue of taxes.
Nearman has been falsely attacking Jim Thompson, trying to paint him as a tax-and-spend liberal.
The truth is Jim was a deciding vote on the biggest small business tax cut in history — a tax break that Nearman himself voted to eliminate.
We can trust Jim Thompson to hold the line on spending and taxes.
He opposes Measure 97, and he's always been a careful watchdog on our tax dollars.
Join me in voting for Jim Thompson.
Gene Henshaw
Dallas
Evans protects vets, women rights
Paul Evans deserves to be re-elected to HD 20.
He has worked hard to secure services and benefits for veterans.
In addition, he has made it a priority to stand up for women, students, farmers, and small businesses.
Paul has the experience to get things done, and he knows how to work with both Democrats and Republicans.
I am proud of what he has accomplished, and I know that he will continue to work for the people in HD 20 and for all Oregonians.
Please re-elect Paul Evans for HD 20.
Jackie Pierce
West Salem
Falls City needs bond for facilities
Yes on 27-120 provides our growing, aging school district with needed space for classrooms, enrichment activities, community space, and a functioning kitchen. A gym is only one aspect of the proposal.
Please review preliminary plans, tour facilities, and volunteer.
Get to know staff and students. Attend board meetings, share your ideas, and listen to the district's vision.
The district welcomes constructive feedback. Please help us receive the $2 million ODE matching grant by voting yes for $2 million bond.
This is not a $4 million bond; vote yes and support needed educational upgrades for our students; empower our future with your support.
Jami Kidd
Dallas
'Dupes' man disagrees
The following caption appeared the USA Today for Oct. 16: Wall Street, lawyers dominate Clintons fundraising."
The "dupes" man has not lately bestowed his solicitude on us Tea Party "Dupes" of Wall Street.
Mark Vimont
Independence
Thanks to Dallas Fire & EMS
We would like to thank the Dallas EMTs for all their help and being there.
Shirley K. Hill and family
Dallas