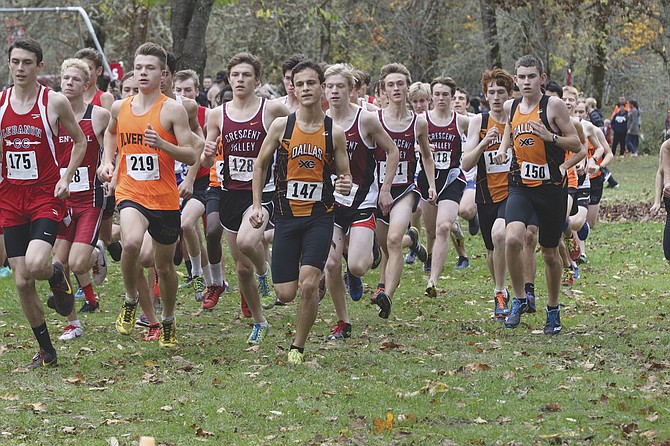 LEBANON — One mile into his race on Oct. 26, Dallas sophomore Trevor Cross knew it was time.
"My plan was to go out with the lead pack for the first mile, then go out the second mile, and break away and the third mile, see what happens," Cross said.
Cross executed his plan to perfection, finishing second at the Mid-Willamette Conference District Championship and earning a trip to the state cross-country meet on Saturday.
"It feels great," Cross said. "This is right where I want to be."
Cross finished with a time of 16 minutes, 28.5 seconds. Corvallis' Ian Vickstrom won the race in 16:26.9.
"His first goal was to go to state," coach Monique Lankheet said of Cross. "His second goal was to run a smart race. He didn't want to get stuck in a situation where he went out too fast or blew his opportunity."
From the start of the race, Cross was among the leaders.
"I think he ran as well as he could run and was happy with his performance," Lankheet said. "I think he wishes the course was maybe 20 meters longer, and I think he might have caught (Vickstrom), but for a sophomore, this is a pretty big accomplishment."
State had always been on Cross' list of goals.
After a strong showing at the MWC district preview meet in September, that goal became much more realistic.
"When I came in second at the district preview meet, that made making it to state a real goal," Cross said. "Everyone in our district was there."
That didn't mean the district championship was without its share of nerves — but once the race started, Cross was at peace.
"I was pretty nervous," Cross said. "I trusted my training, I knew I was ready, and I knew what to expect."
The boys finished seventh in the team standings. Kenny Sutton (21st, 17:39.8), Ryan Bibler (27th, 17:48.3), Gavin Grass (33rd, 18:01.3), Orion Knudson (44th, 18:23.4), Antonio Barrientos (52nd, 19:02.8) and Daniel Gagner (55th, 19:27.2) rounded out the team's varsity finishers.
The girls squad finished sixth.
Alyssa Garner led the girls finishing 28th in 22:15.8. She was followed by Anne Van de Ven (32nd, 22:49.6), Bekah Rocak (34th, 22:53.4), Kelsey Mcintosh (35th, 22:54.6), Jamie English (36th, 22:55.7) and Leah Miller (40th, 23:42.0).
"I thought our kids really competed hard," Lankheet said. "They came in prepared, and I'm happy with how well they ran. We still have a young team, and they're already talking about next year and how they want to be better."
For Cross, his season isn't quite done.
He'll compete at the state cross-country meet on Saturday at Lane Community College in Eugene.
"I want him to experience that level of competition," Lankheet said. "He went to state in the 3,000-meter run in track, so I think he's smarter from that experience. I think he'll be more relaxed and more confident."
Cross will be running on an unfamiliar course on Saturday and will be facing some of the fastest runners in the state — a challenge that the sophomore can't wait to tackle.

"I don't know what to expect," Cross said. "If I can beat 16 minutes, that would be cool. I'll just do my best and run hard."